Dance club MV Andaaz returns with a new name and style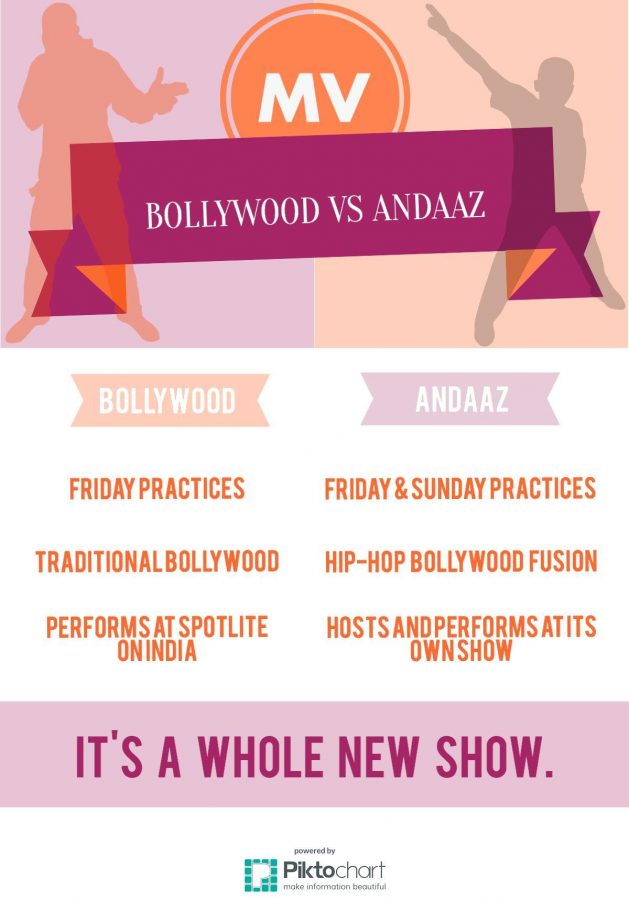 Shriya Deshpande
August 22, 2015
Updated on August 22 at 6:57 PM: MV Andaaz will not be having Sunday practices. 
Updated on August 22 at 6:57 PM: MV Andaaz will also be performing at Spotlite on India. 
MVHS features four very different dance teams that are not only comprised of completely unique styles but also of special atmospheres of their own: the Marquesas, Raas, Bhangra, and Andaaz.
Senior Shail Trivedi joined MV Andaaz, formerly known as MV Bollywood, during his freshman year. He explained that the club seemed the most inviting and very different from other activities he'd partaken in before.
MV Bollywood, similar to MV Andaaz in its focus on Bollywood dancing, was created in 2011 to use bollywood dance as an avenue to enhance and spread Indian culture. In order to have a fresh start, captains senior Ajay Merchia, senior Melodie Liu, junior Ankita Agarwal, and Trivedi created MV Andaaz, a dance club that focuses on the fusion of hip hop and bollywood dancing as opposed to MV Bollywood's stronger emphasis on more traditional bollywood choreography. The club has also changed its name to integrate a more Indian-style name.
"We wanted to create a new identity for ourselves without the stigma attached to Bollywood," Liu said.
According to Liu and Trivedi, MV Bollywood had problems organizing events and thus had fewer performances throughout the school year. By building and maintaining good relationships with other school dance teams, MV Andaaz hopes to attain more performance opportunities and community spirit. This year, MV Andaaz has planned for several future fundraisers to raise money for costumes and team outings. It has also planned a showcase event similar to Spotlite on India, a show featuring a variety of Indian dances, skits, and songs, in early February that not only includes MVHS dance teams but those from other schools.
The club will direct its attention to emphasizing hip hop and pushing the club to be more contemporary. Their goals include teaching others to express themselves through dance, maintaining a family-like connection with club members and using performances as both an opportunity to bond and to experience the thrill of performing.
The captains are determined to show club members incredible intensity and enjoyment of performing. Trivedi described that having a strong support system within the club would help the members learn how to truly dance well in a performance.
"By developing chemistry, practice goes quicker and we're more synced up," Trivedi said.
Agarwal also stated that she as well as other club captains are developing new ways to combine and encourage building up physical strength and team bonding through sleepovers, dinners and exercise sessions running to Jamba Juice. They hope that by developing a new regime that includes a nuanced dance education, they will be able to prove to others about MV Andaaz's excellence and build strong relationships among club members.
"It's all to be like a family and have a strong bond with each other," Agarwal said.