Track and Field: Athletes achieve personal records at El Camino League Finals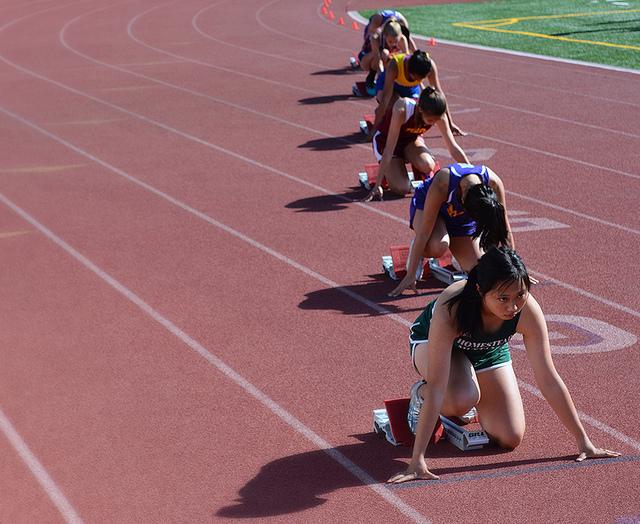 Kalpana Gopalkrishnan
May 10, 2015
No one seems to remember when the El Camino League Finals were last held at MVHS, but nevertheless, on May 6, 2015 at 4 p.m., athletes from around the valley congregated at MVHS' renovated track to compete for entrance to the Santa Clara Valley Athletic League Finals.
Although MVHS finished fifth (Varsity Boys) and seventh (Varsity Girls) out of seven schools, the team celebrated the season with 38 athletes on the podium.
Hover over the images to hear the stories of MVHS athletes, parents and coaches at the meet.
---
John McKeemon was confident that his runners would be able to achieve personal records at their races. His prediction came true, and then some. Sophomores Vincent Kao and Andrew Ma and freshmen Justin Lin and Michael Sakellar set a new league record in the Frosh/Soph 4×400 relay with a time of 3:40.78.
---
Although this year was junior sprinter Jasmine Zhang's first year on the track team, she has become accustomed to the sport and plans to continue as a senior, where she hopes to experiment with new events.
During the 4×100 relay, Zhang received a scare when it was announced that their team had been disqualified from the event from a mistake with a zone handoff. Five minutes later, she realized it had been a happy mistake, and her relay team finished at 57.91.
---
Already receiving attention from universities like MIT, sophomore Kelly Bishop met her match in the varsity 1600 with Homestead freshman Elena Kamas. During the last lap, the two sprinted side by side as their teammates urged them on. Bishop lost the race by .35 seconds to Kamas, but was pleased with her 5:01.96 time.
---
Not everyone on the MVHS track and field team qualified for league finals, but even those who did not still stayed to cheer on their teammates, help set up hurdles and bask in the excitement of the congregation of seven schools on their home track. Seniors Emilio Torres and Akshay Thontakudi relaxed on the field as they waited for events with sophomore Aidan Gottlieb. The three took advantage of the meet's long duration to socialize while assisting in setup.
---
Julie Van Gelder's scream could be heard above the clamor as her son, sophomore Scott Gregory, finished first in his heat for the Frosh/Soph 1600. Gregory, who had wrestled with lung problems throughout the season, climaxed at the Finals with a personal best of 5:00.70.
---
It was the first time this century that MVHS was the league finals host, and it was also the first time that coach Kirk Flatow had the honor of hosting the event. Flatow, who had arrived early in the morning to set up for the event, kept the peace during the meet while he set up hurdles.