Game GIFs: Badminton team surpasses Los Altos HS 18-12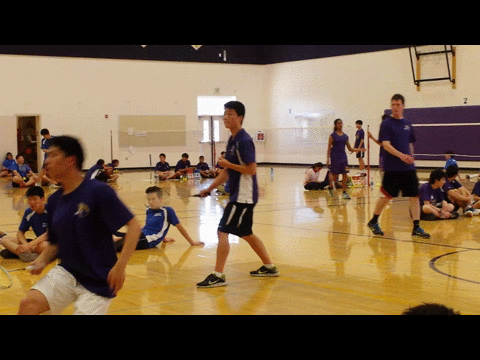 Racquet on the Court
The court featuring sophomores Ansell Yuen and Joshua Ho drew the attention and voices of dozens of players from both schools. Each additional point only drove up the volume until the sidelines were roaring with cheers or groaning at a loss in a rally. Within the court however, the match was nearly silent. The scores were tied for the early part of the game with alternating gains that lead to a tense standoff at 20-20.
Through a paired effort and a series of out of bound shots from the Eagles, the Matadors were able to secure a victory of 22-20. A narrow but grand victory.
"The very first time we played against Los Altos we were like 'wow'," Yuen said.
The last match against Los Altos HS resulted in an identical score of 18-12 after the Matadors lost every boy's doubles game. The team since then has become more wary with both coaches and players alike watching for the Eagles.
"This time though we were better prepared," Ho said. "The match ended up being easier than I thought."
But against a mountainous threat like LAHS, there are a range of things that can go wrong. The competition was a steep obstacle to overcome and it was only enlarged by the absence of multiple team members including two of MVHS's three coaches.
MVHS alumnus Eric Liu and PE teacher Brian Mr. Sullivan were absent during the preparatory practices against the Eagles. Coach Evan Blomquist led the team during the last few days in what was an admirable yet uncontrollably rushed effort. Consistency drills and cross class practices still had to be carried out despite the lack of coaches. Against LAHS, one of the four upper tier badminton teams in the district, the team would have to swing forward but the weight had been increased.
Hairpin Defeat
Away from the crowds of Eagles and Matadors, sophomore Thomas Wei and freshman Diya Manghnani played, rallied, and were ultimately defeated. The MVHS duo had been arranged as a contingency when Wei's original partner sophomore Lucy Shao was absent for the day's game. Instead of a familiar synergy, the pair now had to learn each other's playstyles on the court. Their unfamiliarity resulted in a few missed points; however, they played and nearly overturned their initial disadvantage. Wei's series of smashes and rapid returns helped finalize the score of their match at 17-21.
"Given the circumstances I believe we did what we could," Wei said."We still had a fair chance of winning."
The fourth game of the season ended 18-12, the narrowest marginal victory of the 2015 season. Blomquist claimed that the game would be a challenge but that it was nothing the Matadors could not overcome.
"We are better prepared this time around." Blomquist said. "The second time there will be no surprises. I'm expecting at least a 16-14 or 18-12 victory"