Softball: MVHS win earns team first place spot in division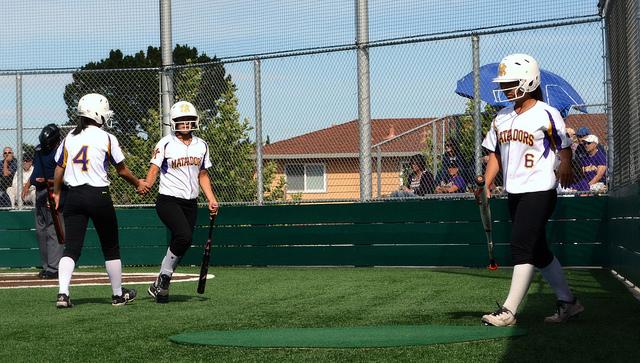 Kalpana Gopalkrishnan
April 26, 2015
The comeback began with a little bit of luck. In the bottom of the fourth inning on April 24, the Matadors were down 2-0 against Mountain View High School, who at the time, sat on the throne of their division. In fact, the Spartans had just scored a home run, ran out of their dugout and cheered so long that the umpire told them, "Party's over!"
The Matadors knew it would not be an easy game. With sophomore Danielle Koontz on first base and zero outs, junior Monica McCarthy hit a ball low towards the Spartans shortstop.
That's when luck played its part. It was an easy throw for the Spartans player, but as she aimed for her first baseman, her throw traveled much too high and McCarthy advanced to second. Ecstatic with hope, the MVHS dugout buzzed with a chorus of "Dude, dude, dude."
They were back in the game.
One batter later, Koontz slid into home plate thanks to freshman Ann-Marie Manley's single, and the Matadors had one run on the board. Manley's batting in that key moment ensured that Koontz's and McCarthy's runs had not been in vain.
"There was a lot of pressure, because it was a big game," Manley said. "But once we started batting and just kept getting runs and [the Spartans] had to change the pitcher, it was over."
With one out left, the inning climaxed with freshman Jailin Siu's high hit down centerfield. Despite a Spartan outfielder's catch, McCarthy made it to home and tied the game at 2-2.
Now the Matadors had another challenge: stop the Spartans and their sluggers.
Outfielders McCarthy and sophomores Mika Maenaga and Kaitlynn Yamauchi were up for it. With their fielding and Koontz's pitching, the Matadors shut out the Spartans in the fifth inning.
"The last time I pitched I did not perform to what I originally wanted to," Koontz said. "But I thought we had to win. I thought we had to get the job done in order to try to finish first in our league."
Unable to convert runs in the fifth, the Matadors returned in the sixth inning a little antsy about changing the T to a W. Once again, a freshman responded for the Matadors as Aly Olkein's line drive broke the tie. After that, there was no need for luck. Matador after Matador hit for a game total of nine, gaining a four-run lead on the Spartans to make the score 6-2. Less tense now, the dugout erupted into cheers of "1-2-3, atta baby!" and laughed at McCarthy's moment of confusion over which base to go to.
The 6-2 win put the Matadors in first place, right next to the Spartans. Although a large remainder of the season is left, the teams hopes for CCS are high.
"We're very resilient," coach Raymond Teixeira said. "We get behind a little bit but we don't drop our heads. We still get at it and come back and get you. It's a good team that finishes."
The Matadors' next home game is May 6 at 4:00 PM against Fremont High School.