Girls Golf: Team starts off in the rough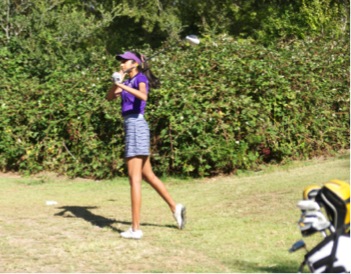 The Matadors played their first game against Lynbrook High School on Sept. 11 at the Deep Cliff Golf Course. LHS beat MVHS 196-220. The team believed that its loss was due to nerves, especially because it was the first game of the season.
"I'm not too proud of my performance, but I feel there's only room to improve so I'm definitely looking forward to the next game," senior Harshitha Sriraman said.
Most of the girls agreed that their hand positions on the club changed, which changed the direction the ball travelled compared to where the player wanted it to go. As a result, their personal score increased, and the pressure definitely went to their heads.
"In golf, when you get really stressed, you tend to tense up and your stance changes," sophomore Shriya Perati said. "It is really important to maintain a positive mindset so you can play well."
Coach Brian Sullivan also believed that the team shares the same views as Perati. However, he wasn't surprised by the outcome.
 "I actually thought that we would have challenged Lynbrook a little bit, the way some of the girls have been scoring and playing…but being first match [and] getting into the match routine, I think nerves set in for some of them," Sullivan said.
 Regardless of the fact of having no team practice, most players plan on coming over the weekend by themselves to train and practice. Perati explained that she makes it a point to go to the golf course early in the morning on the weekends so she can practice. She believes that she learns the best from being on the course.
 Even though the Girls Golf team have started the new season in the rough, they are determined to improve individually so they can shine together on the green.
The team's next game is against Saratoga High School at Saratoga Country Club on Monday, Sept. 15.