MVHS loses their senior night game to Los Altos High School due to a defensive focus.
The final game of the season saw the Matadors say goodbye to their only graduating senior, Angela Wu. MVHS capped off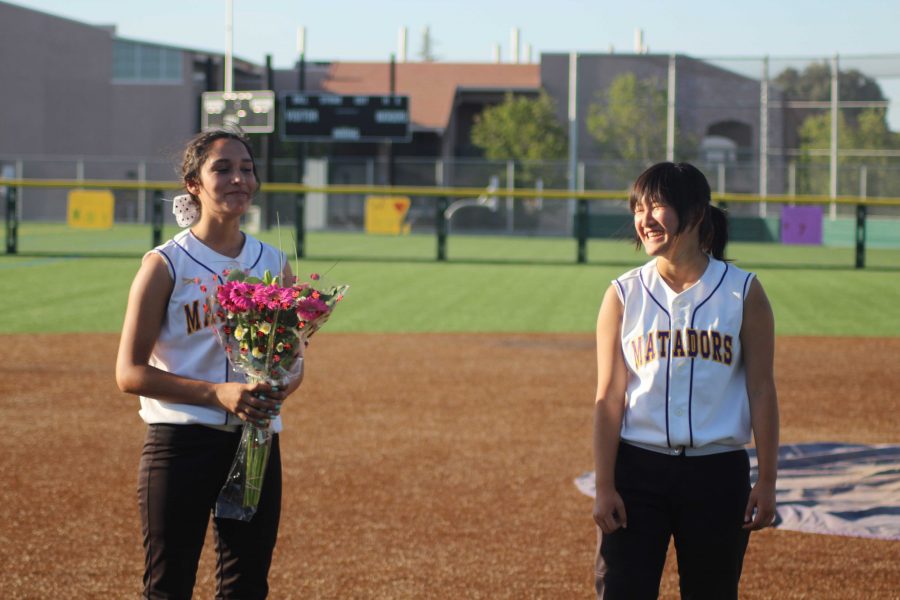 their season with a 0-4 loss to Los Altos High School on May 14. Before the game, juniors Janaye Sakkas and Tamanna Ahluwalia and senior Angela Wu presented the opposing team with flowers, a senior night tradition.
The first inning began with Ahluwalia pitching and Wu catching. At the bottom of the first inning, sophomore Marissa Lee was unable to get to first in time after three balls and two strikes.
Sophomore Monica McCarthy caught the second inning. In the second half, freshman Hailee Huber's hit bounced, was caught by the pitcher and got to first before she did. Junior Janaye Sakkas bunted, and also failed to get to first in time.
In the third inning, McCarthy caught a foul, but her throw to first, in an attempt to negate a steal, wasn't caught, and the LAHS runner got to home plate. The Matadors turned around a little, and struck out the final batter. On offense, sophomore Maddy Marten's bunt got her out at first, but freshman Kaitlynn Yamauchi advanced to second. However, the team failed to move any further.
In the fourth inning, Lee got to second base on Huber's hit, but she got out. In the fifth inning, Ahluwalia struck out the last batter, and the first hitter in the sixth. Sakkas got the ball from the left side and threw it across the field to Marten to get to the next out. All three hitters were struck out in the bottom of the sixth.
In the last inning, Wu was subbed out, and was applauded from the crowd and her team. Huber got the ball and threw it to Marten for the second out, and the last LAHS batter was struck out. In the bottom of the inning, freshman Amanda Chan hit down the middle, but did not get to first in time. Sakkas followed suit.
The MVHS team is a young one, with only one senior, two juniors and five sophomores. Their record is 7-20, while LAHS has a much higher seeding, with a record of 19-7.
| | | | | | | | | | | |
| --- | --- | --- | --- | --- | --- | --- | --- | --- | --- | --- |
| | 1 | 2 | 3 | 4 | 5 | 6 | 7 | R | H | E |
| MVHS | 0 | 0 | 0 | 0 | 0 | 0 | 0 | 0 | 1 | 3 |
| LAHS | 1 | 0 | 3 | 0 | 0 | 0 | 0 | 4 | 6 | 1 |