English Language Development students prepare to apply for Leadership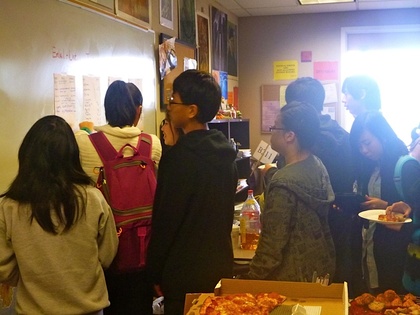 Harini Shyamsundar
May 14, 2014
Four months ago, literature teacher Mikki McMillion published a post on the news bulletin of the MVHS School Loop home page. It was titled "Seeking EL Leaders for next school year!" and in three brief sentences, McMillion encouraged English Language Development students to apply Leadership for the upcoming school year.
Three days after the announcement appeared online, McMillion, along with her New Student Support club officers, opened the door to her classroom during lunch to welcome dozens of interested ELD students. Some walked into the room confidently, taking seats at the front of the classroom to watch Leadership guest speaker, senior Colin Kim, present to the group about the benefits of being part of the MVHS Leadership program.
Other interested students, however, were less open, lingering hesitantly by the door with their friends and only entering after McMillion or an NSS officer guided them to vacant chairs.
"We're still in the early stages, at this point," McMillion had said, a free moment after the first informational meeting with the ELD students in January. "We're still teaching them and trying to at least get them to picture themselves in Leadership, which is difficult at a large and competitive school like MVHS."
In the course of just four months, many potential ELD applicants have gone from knowing next to nothing about the Leadership program to being able to fully articulate the points they wish to touch on in both their applications and interviews.
"I think what's changed is that before, they were just interested in the idea," McMillion said. "But then, as we started to really go through the process, students began to realize what this might actually look like if it happened — it became something more."
The ELD motive
When junior Nicole Yang first came to the United States during the summer of 2012, her English was so broken that she often relied on single words to express her thoughts. Her knowledge of American public schools' routines was limited to the few, flaky facts she had picked up from movies and the media. She recalls feeling "left out" of the holistic MVHS experience.
"I think it's hard not to judge people based on their background," Yang said. "People talked to me and thought, 'Oh, she can't speak English properly, so I won't be able to connect with her.'"
Even though Yang initially found it hard to connect with native English speakers, Yang quickly connected with other ELD students, through ELD classes and NSS. Nonetheless, Yang still did not believe she had truly integrated herself into the MVHS community. She felt distanced from MVHS students that were outside of her ELD social circle. She and her ELD companions kept mostly to themselves, for fear of being rejected if they attempted to mingle with others.
"People just assumed that I couldn't interact with them," Yang said. "And I want to change that."
Yang, along with junior James Hong, another ELD student who intends to apply for Leadership, has been preparing for their imminent Leadership application and interview since their first meeting with McMillion and NSS in mid-January.
"In January, we didn't know much about Leadership at all," Hong said. "Now, I know exactly what I want to do. When I was new, I always felt really afraid of being alone … I want to teach [other ELD students] how to conquer this fear like I did."
The ELD objectives
Currently, the MVHS Leadership program does not have a commission specifically for ELD applicants, unlike at many other schools. The function of this new Leadership program would be to give new ELD students at MVHS direct access to students who, like themselves, have undergone the process of being an ELD student at MVHS. In other words, it would provide new ELD students with a clear method by which to assimilate into the MVHS community.
"I like the idea and I get it," Leadership advisor Mike White said in January, a week after the first ELD interest meeting. "We want to pick a variety of people, and make sure we include them and make sure that they feel included.
White has taken the new commission into consideration. Plans to implement it for the upcoming school year are still under discussion.
On March 11, the potential ELD applicants met with McMillion and several NSS officers to make a list of the specific changes they would bring to the MVHS campus if selected for Leadership. All of the ELD members decided that their top priority was to provide other ELD members with personal social support in a way that NSS members cannot.
"We have kids here who are without parents, who are living with sponsors or supervisors," McMillion said. "And I can't imagine how hard that must be. Just having someone who knows what it's like to feel isolated and not included — that's key."
ELD applicants decided that the best way for them to accomplish this task would be by educating ELD students, as well as their parents, on specific characteristics of MVHS.
"Even though we hear things in the announcements, like club meetings or school events, we still don't understand them, or we are not interested because we don't have friends to go with," Yang said. "If an ELD student at MVHS only has one group of friends, they will keep hanging out with that group, but its so much more meaningful to go out and interact with other social groups at meetings or sports games."
ELD applicants want to employ a "grab a friend" policy, or a spontaneous buddy-oriented system, through which they can introduce new ELD students to the social opportunities at MVHS, such as lunch activities, dances and sports games.
However, ELD applicants do not only want to focus their attention on ELD assimilation. They also want to ascertain that other MVHS students learn to accept their ELD counterparts.
"We came up with the idea of Diversity Day because we want MVHS to diversify itself," Hong said. "We want to introduce activities that can affect the whole school. Like a world food trial or a cultural games night — something that the whole school can join in on."
Updated on June 1 at 4:10 P.M.: On May 30, the MVHS Leadership team for the 2014-2015 school year was announced. Both Hong and Yang were selected.