Aamir Patel uses nanotechnology to create the Silic shirt.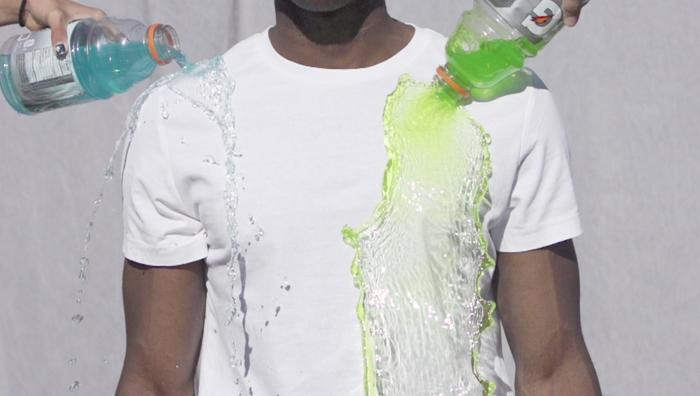 After Class of 2012 alumnus and De Anza College sophomore Aamir Patel saw a viral video about the product NeverWet, a spray that makes various surfaces waterproof, he wanted to see how it would work on a shirt he could wear.
"When I sprayed it on my shirt, I felt kind of dizzy afterwards and I looked at the warning label and it said that the product was cancerous, caused birth defects," Patel said. "I was a little angry that the company would advertise in all their commercials that it was okay to put it on a shirt when they shouldn't be."
Patel wanted to create something that would waterproof a shirt, but that was safer than the NeverWet spray. It took him three months of tinkering with the design to come up with the Silic shirt, designed using nanotechnology to resist stains from sweat or spills from any water-based liquid. Patel worked with contracted suppliers and manufacturers to perfect the design because he does not have access to his own lab.
The active ingredient for the Silic shirt fabric is silicon dioxide. The fabric is run through what Patel describes as a "layering process," in which billions of silica nanoparticles are put onto the fabric creating a high surface tension with water molecules and repelling them. Because the particles are so small, the shirt feels like a soft T-shirt.
"Nanotechnology has been around for a while," Patel said. "What we've done that's special is that we've been able to put into the fabric on the nanoscale."
Patel launched a Kickstarter project for his Silic shirt project to which people can donate to pre order a shirt or swatch of fabric. The project has raised approximately $220,000 and Patel aims to reach approximately $250,000 by Jan. 26. The shirts cost $48 each.
Patel reached out to manufacturers located in San Francisco to produce the shirts, and according to the Huffington Post, the pattern for the shirt was designed by former designer for Vera Wang, Rebecca Clark.
"They're very soft polyester T-shirts, like a form-fitted design," Patel said. "We'll probably expand it out from T-shirts to hoodies, sweatshirts, pants, you name it. We can use this technology on any kind of clothing."
The shirt is expected to be sold online and in various retail stores in 62 countries by May 2014.