Girls soccer: Missing chemistry results in second preseason loss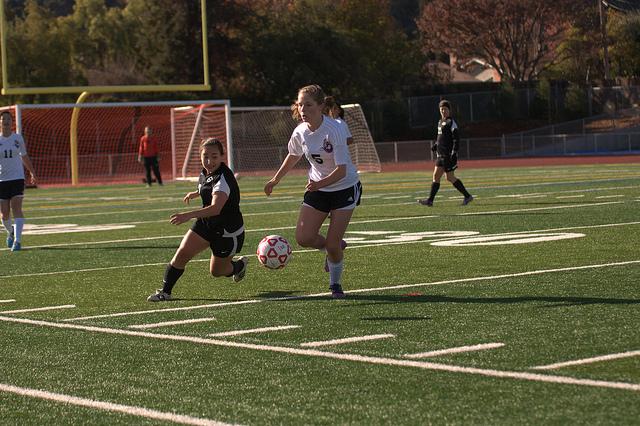 Alina Abidi
December 8, 2013
The girls soccer team lost at home with a score of 0-4 against Gunn High School on Dec. 7.
The Matadors began their third preseason game against Gunn High School with a strong offensive push and a close shot on goal from freshman Kalpana Gopalkrishnan. GHS' defense quickly passed the ball down the field to MVHS' defensive half, where it remained for most of the game.
The Titans scored a few minutes in, and MVHS regained their intensity with more attempts to score. Junior Janaye Sakkas took a free kick and sent a powerful shot to the goal, but Matador forwards were unable to follow up and hit the ball in due to the Titans' strong defense.
The GHS offense scored another goal 36 minutes into the first half as the Matadors struggled to keep up and make effective passes.
"We should have made sure players outside the 18 [yard-box] didn't get shots off," sophomore Monica Polgar said. "That's how they scored on the goals."
The Matadors began the second half more offensively minded. MVHS made stronger, more accurate passes to teammates, but the Titans were quick to intercept and scored two more goals, bringing the final score to 4-0.
"At the end, we were able to communicate really well," sophomore Alissa Patterson said. "We got our passing together better."
Although the girls did not score, coach DJ Driscoll explained that the game helped them find which players work together well. They have been playing as a team for two weeks, and many positions are yet to be finalized. Once they are, the team expects to better anticipate where their teammates are and to develop the chemistry that will improve their game.
"The good thing is, when we lose games like this, at least it's in the beginning of the season," coach DJ Driscoll said. "We can build them back up."
The first league game is on Wednesday, Jan. 8 against Los Gatos High School at Los Gatos. The next home game is on Friday, Jan. 10 against Palo Alto High School.