Parental guidance not required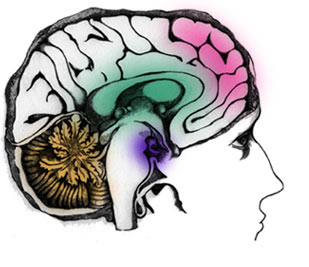 Kristin Chang
December 5, 2013
Obedience in high school may negatively impact teenage independence.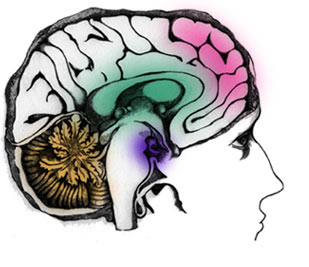 Right behind your forehead, there sits a chunk of your brain known as the prefrontal cortex. Colloquially, it's called the "judgment center" — a region where risks are evaluated, social situations are appraised and decisions are made with the rapidity and accuracy of a machine. At least in theory.
But if you take a peek at the average teenager's prefrontal cortex, you'll notice that it is a little shriveled. It is still growing, which means that when it comes to making well-weighed decisions, teenagers are a little lacking.
Now, what's a parent to do? It is the guardians' job, after all, to guide their kids toward adulthood one nudge at a time.
But when homework help turns into tutoring and advice turns into pre-planned course selection, parents jeopardize the development of independence. Just as practicing math can improve the section of your brain related to logic, making independent decisions can sharpen the ever-growing prefrontal cortex. Arguably, it's the section of the teenage brain that needs the most exercise.
MVHS is known for its community of engaged and interested parents, but according to the American Psychological Association, parents who care a lot for their kids are prone to over-involvement. They decide which colleges their children should apply to, how many classes they should be taking and how they can succeed in life. But why shouldn't parents advise their kids on how to succeed? The problem is that habitual advice can easily be interpreted as directions. In reality, teenagers should be learning how to read the map.
Granted, it is part of the responsibility of a parent to ensure that his or her child does not partake in certain catastrophic activities, such as drug abuse or shoplifting. But in the case of other decisions, such as when to wake up in the morning or who to hang out with, parents should step away and say "This is all yours."
Still, no parent will ever give his or her child complete freedom, because no kid can be trusted with complete freedom. This is a truth universally acknowledged. Nevertheless, healthy decisions are born of balance: withholding judgment as much as possible while still offering a different perspective.
Instead of reverting to the same old "Back in my day," or "You should do this" verbatim, parents can start with "Well, this is just my opinion, but…" Wording is half the battle.
Meanwhile, the education system is naturally based on the principle of obedience: a student's competence is judged in part on listening and following directions. But because a teenager's life is so ensconced in the school system, it's easy to graduate and think that adult life is based on the same principles of doing work and turning in assignments.
Yes, hard work and determination will always be vital. The level of independence that is expected of you, however, remains inconsistent through every stage of life.
Counselors, teachers and tutors cannot simply stop counseling and teaching and tutoring. It is their job, after all. But parents can withhold their judgment, no matter how well-intentioned. Through every generation, experience is gained by a similar try-and-fail-then-try-again manner, a pattern described by Psychology Today as the "Sink and then Swim" model.
According to National Geographic's study on the adolescent brain, teenagers whose parents guided with a "light hand" were more skilled at gauging conflicts and relationships. Even though these teenagers' decisions were sometimes described as "vexing" and "puzzling," their prefrontal cortexes were sure to thank them later.
That tiny sliver of the brain, still developing into its full neural glory, may be responsible for some of the most spectacularly stupid decisions this world has ever seen.
But it is also still under-developed for a reason: to ensure that risks not even considered by most adults would seem reasonable to teenagers. The slow and often painful maturation of a teenager is a natural process designed to wear out parents and prepare kids for every possible situation in the vicious "real world."
In the 1990s, the term "Helicopter parent" was coined after baby boomers became paranoid about the fast-paced, high-stakes world their children were born into, with academic competition contributing to increased levels of parental interference.
Some parents' understandable response to academic stress is to mold their kids into high-caliber, success-system kids: unfortunately, a guiding hand can just as easily be a stifling one.