Marching band discontinued for remainder of school year
The music department suspends Marching Band due to lack of student interest and unjustifiable budget usage.
For students who enjoy the performing arts as well as team rivalry, the marching band is a unique combination of musical expression and disciplined competition. MVHS students have long been exposed to the opportunity to grow musically through Marching Band. In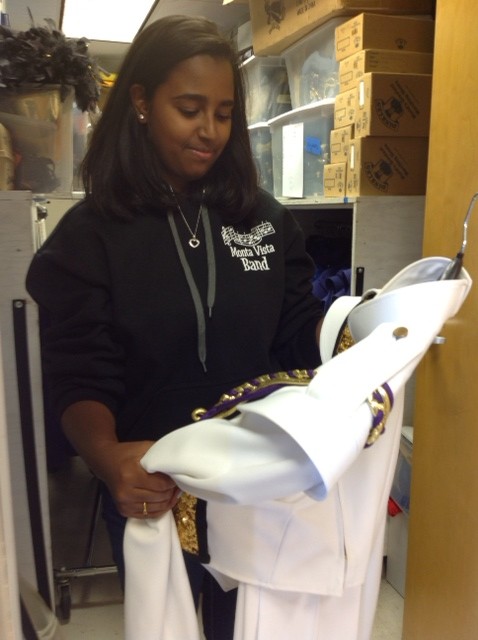 years past –– notably 2010 and 2011 –– the team has brought home first-place trophies from parade competitions in southern California and other local street competitions.
This year, however, the trend has been temporarily halted. Though hopeful for a future resurgence, the music department and administration, have been forced to discontinue Marching Band for the rest of the year due to stressors such as lack of student interest and budget.
Until about three years ago, the Marching Band, a subprogram of the general band elective, had been a compulsory activity for incoming freshmen who wanted to enroll in band at MVHS. Then, after a year of competing with Marching Band, beginning their sophomore year, students had the option of choosing between Marching Band and Pep Band, a separate subprogram, which unlike Marching Band, was more performance-based rather than competition-based. According to the new policy that was implemented at the beginning of the 2010-2011 school year, however,  freshmen were no longer required to participate in the activity. Though the program still retained some interested students, according to band teacher and Marching Band director Jon Fey, most students opted out of the band class to enroll in alternative performing arts or academic electives.
At the beginning of this year, the music department once again tried to target the incoming freshmen by making Marching Band compulsory yet again. Over the course of the first two weeks of this school year, however, the music department saw a significant dip in student interest in the program. According to senior Anu Vaishnav, the head drum-major for Marching Band, about 40 to 50 students out of the 70 enrolled in Marching Band for this year dropped the band elective.
According to Fey, the academic culture at MVHS compromises students' interest in the arts, negatively impacting the Marching Band program as a result.
"Students parents' do not prioritize time for the Marching Band activity," Fey said. "Time is spent in other things [such as] outside sports and SAT prep classes."
Along with the lack of student interest in Marching Band's offerings, unjustifiable budget allocation jeopardizes the competitive as well as the presentational aspect of the program. Though the program previously benefitted from a portion of the $50,000 music boosters budget, with a decreasing proportion of Marching Band students to the overall population of students enrolled in the music department, the decision to cut Marching Band's funding was finally announced on Aug. 24.

"Right now it doesn't make sense that we're using 30 percent of the music boosters' budget for just 10 percent of the interested population," Vaishnav said. "That's the sad truth."

Vaishnav represents a small population of the student body who has been deeply affected by the cancellation of the program. Vaishnav and her three other senior teammates, Mike Thomas, Melinda Yang and Connie Guan have spent the past three years of their high school careers in Marching Band. They have not yet seen any significant indicators of the program's revival, but regardless, their love for the art and competition has brought them back this year in hopes that the program will someday be revitalized.

Although Vaishnav and her teammates will not compete this year, they will perform during halftime at football games with the Pep Band.

"I am no longer a drum major," senior Anu Vaishnav said. "I love my teammates more than the title of 'drum major,' but this was supposed to be my year."

Although efforts are underway to revive the Marching Band program, including recruitment meetings led by MVHS Marching Band alumni who are now Stanford University graduates, Fey and Vaishnav are viewing this phase as a boon in disguise.

"[This is an] emotionally trying time," Fey said. "It will take some time to get over the initial shock, but this will be a place in history –– a transition to something greater."

[quote_center]For an in-depth reflection on the history and legacy of Marching Band, read the next print issue of El Estoque.[/quote_center]