Students petition administration to schedule class in an earlier period, but are rejected.

"Unscheduled Seventh period" and "Unscheduled Seventh Sport". In their March speeches about scheduling for the 2013-2014 school year, counselors made it clear that administration does not consider these two course requests differently from one another. Putting down Unscheduled Seventh Sport does not guarantee a free seventh period any more than an Unscheduled Seventh Period does. So when juniors Rahul Madanahalli and Aravind Sivakumar both requested Unscheduled Seventh Sport and AP Physics in March, they found a potential scheduling conflict.
AP Physics is what administration calls a "singleton," because it is only offered during one out of the seven class periods that make up a day. In the 2012-2013 school year, AP Physics was offered during seventh period. The AP Physics class is during seventh period this year as well.
Madanahalli is on the school's water polo and swim teams, and Sivakumar is on the soccer team; both have practice during seventh period. Fearing that AP Physics would again be held during seventh period for the 2013-2014 school year, Madanahalli and Sivakumar started a petition and scheduled a meeting with assistant principal Ben Clausnitzer in May to propose that AP Physics be scheduled at an earlier period.
"We didn't individually seek people out," Sivakumar said. "We kind of told the [physics honors class], 'This is what we're about, we want to eliminate the prospect of having Physics AP during seventh period next year–so if you're in the same boat as us and you applied for a [free] seventh period [for sports], or you would like to have Physics AP in a different period, sign this petition.'"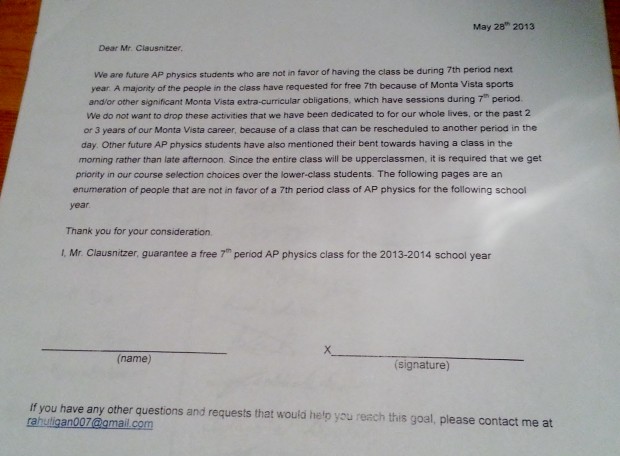 Out of a class of approximately 40 prospective students, Madanahalli and Sivakumar acquired 27 signatures on their petition. In addition, they prepared a cover letter stating their purpose and the effect a seventh period AP Physics class would have on the students who requested it and plan on participating in a sport next year. They also included an optional line on the cover letter for Clausnitzer to sign and guarantee that AP Physics will not be during seventh period the next year.
"I presented [the petition] to him, and I said, 'We would like for you to sign this piece of paper,'" Madanahalli said. "He said, 'We consider the conflicts of the student body,' and I told him, 'Here on this sheet of paper are the conflicts of the student body.' But he did not accept that piece of paper."
Clausnitzer did not take the petition because administration's scheduling policy does not apply to conflicts with extracurriculars such as sports or clubs, but rather to conflicts with other classes.
"The whole goal [of scheduling] is to minimize conflicts with other courses. That allows access to the maximum number of students," Clausnitzer said. "We certainly keep [the petition] in mind, there's no question. But at the end of the day, we're still going to be looking systematically at our approach in terms of how we give best access to that class in a seven-period day to the most number of students."
The team that decides the schedule is made up of administrators, department chairs and other teachers. This team tries to avoid conflicts between classes offered very few times per day, whether they be with only one student or more.
Madanahalli cited in his argument the principal's message on the school website, which states that the school has an "extensive co-curricular program," saying that the message emphasizes the fact that activities such as sports are not "extra" as in extracurriculars, but "co-curriculars" so that they go with the learning students get during school.
Clausnitzer agrees that sports are important but considers academics to hold precedence in this situation.
"I would hate for somebody to try to think they have to choose one over the other, whether it be an athlete over a scientist or scientist over an athlete," Clausnitzer said. "I hope they can see themselves as both, that they can see themselves as being able to participate in both no matter what class period."
Ultimately, Madanahalli was able to continue playing his sports without dropping the class because of early communication with his coach.
"One thing that I think that the school failed to recognize is that even if it cannot provide free sevenths as often, it could at least inform the sports and activities that free sevenths are not just handed out," Madanahalli said. "[The school] failed to communicate with the coaches, and in this case I believe I was the only one to communicate to my coach that 'hey there's a probability that this may happen.'"