Remembering Ruben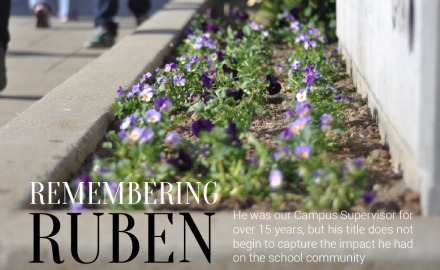 He was our Campus Supervisor for over 15 years, but his title does not begin to capture the impact he had on the school community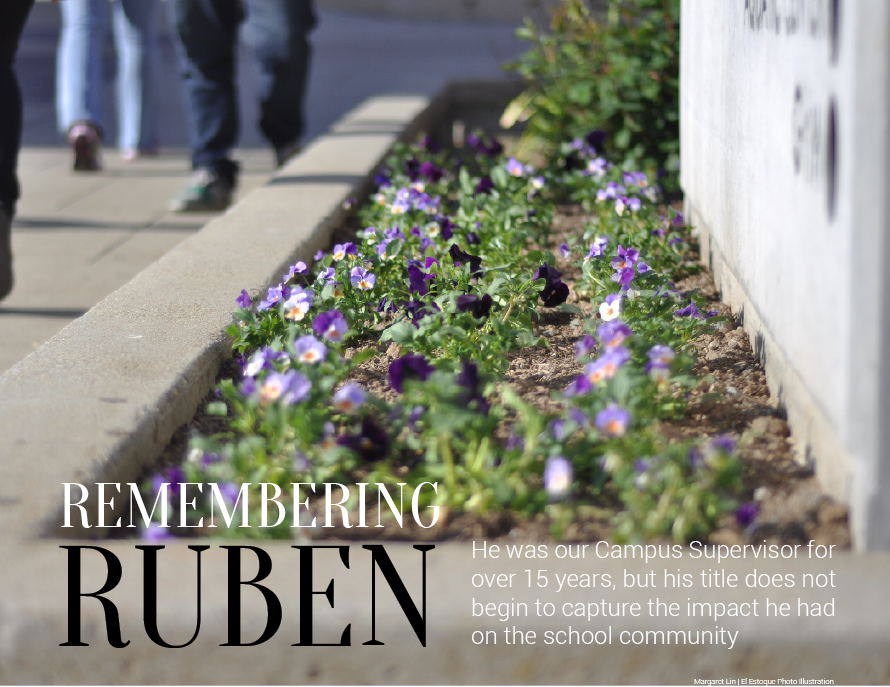 Spanish teacher Maria Autran will never forget the afternoon almost a decade ago when she injured her lower back. She couldn't move, couldn't walk; she needed to make it down to her car but didn't know how. A fellow teacher went down to the office for assistance, and Campus Supervisor Ruben Delgado returned shortly thereafter with a wheelchair in tow.
All Autran wanted was to be taken to her car, but Delgado disagreed: she needed an ambulance and a trip to the hospital. Well, Autran said, nobody could pick her up — her sister was working.
It has been a decade, but Autran still remembers what he said then.
"You go to the hospital, because I think it is the best for you. If you cannot get ahold of your family, call me, and I will go the hospital and pick you up and take you to your home or your mother's home, wherever you want me to take you," Autran remembers Delgado saying, writing his phone number down on a piece of paper. "But I think you need to go to the hospital. Don't worry about anything else."
For Autran and so many others at this school, Delgado was an unsung hero. On the evening of March 23, he died of a heart attack. He has left behind eight kids, 13 grandchildren, 2,419 students and an empty spot between the cafeteria and rally court where he once kept his vigil over the school. To most, he was a familiar if imposing figure. To those who knew him, he was much more: a coach, a caretaker and, most importantly, a friend. To all, his absence is tangible.
According to Principal April Scott, Delgado's job was to ensure MVHS was a safe place. As a former police officer, Delgado used his knowledge of the penal code and easy rapport with students to handle discipline issues with grace. He worked here since 1997, and was planning to announce his retirement March 27, according to Delgado's friend, MVHS maintenance worker Chi Ma.
Delgado wore many hats over his 60 years — he would have turned 61 on March 25. But who he was to the different people in his life — and there were so many different people — never really changed. His son, Gabriel, spoke on the point at his memorial service. It was held the morning of April 1 at St. Victor's Church in San Jose, and from the back rows of the church, the mix of people in attendance was remarkable. A few teenagers shuffled in late with mops of green and pink hair. Murmuring elderly women in cardigans. A little girl in a pink frock with a pacifier, who squirmed out of her mother's arms and brought smiles alongside the welling tears as she tottered down the aisle. At some point, Delgado had been there for all of them.
"He never changed for anybody," Gabriel said at the podium of the church.
In recent years, Delgado spent much time taking care of his wife, who has been battling bone cancer for almost a decade.
"Never once did you hear a word of 'Why me?'" Scott said. "It was, 'She is who I am, and I would do anything for her.'"
One of Delgado's daughters, Andrea, is a paraeducator at Fremont High School. In 1998, at eight years old, she visited MVHS for the first time. "My dad brought me as a part of Bring Your Child to Work Day," she said via email. "We started off at McDonald's, a rare treat because he hated that place."
At the school, Delgado took her around to the weight room and the cafeteria. "He let me run around in the quad and showed me the old film room, but the thing I remember most was that he held my hand everywhere and said, 'These are all good kids, but I never want to lose you, anywhere.'"
* * *
In addition to being the campus supervisor, Delgado was the defensive line coach for the junior varsity football team from 2010 to 2012. Sophomore Amol Pande, a freshman when he was on the team, remembers him as "hilarious."
"He managed to make everything about practice fun," Pande said.
He remembers the day Delgado moved him to the defensive line when the team was short on linemen.
"Mr. Delgado was like, 'You're a fatty! You can do it!'" he laughed. "And then I got down and he was like, 'Oh, you're actually decent at this!'" Pande said. "There was a lot of joking. We'd be running, and as we ran by he'd go, 'You know what? I'm feeling a little tired.'"
To Attendance Secretary Calvin Wong, Delgado was much the same way. One of his favorite memories of him was after a farewell dance. The two of them went to Jack in the Box like "a couple of high schoolers," Wong recalls. They later returned to MVHS to do overnight security and make sure no seniors were on campus planning pranks. At 2:30 in the morning, Delgado played a prank of his own: he snuck up on Wong in a truck and honked his horn. Wong was frightened then but cherishes the moment now.
Even the night before he died, Delgado was still as humorous as ever. Ma, who had dinner with Delgado the evening of March 22, said that his last memory of his friend will be of them eating and laughing together.
"He never turns down food," Ma said. "Every time we were there eating he'd be like, 'You gonna finish that?'"
For Ma, who has been friends with Delgado outside of work for over 16 years, Delgado was not merely a friend but a mentor. Delgado's passion for his work as the president of the Chapter 237 California State Employees Association encouraged Ma to speak up about his beliefs.
"He always told me, never be … never be afraid to be right," Ma said, in tears. "He's been a great inspiration for me to join the union and speak up on behalf of all the classified workers here — secretaries, custodians, maintenance people, printshop people, just a huge inspiration to fight for what's right."
As much as he was an inspiration, Delgado was also a listener, particularly to Andrea, who says her father always took care of her, always listened to every "story, rant, or dream" she had.
The rest of that 1998 day when Delgado brought her to work was full of fun and people, but her father remains the focus of her memory.
"The one thing I remember the most is the feeling of my dad's hand the entire day," she said. "And even though I'm sure I slowed him down, he never let go."

* * *
Delgado was simply a presence at the school. He worked here for over 15 years, and the picture of him, a big, gruff looking guy watching over the rally court from his place in front of the cafeteria, is impressed in the school's memory just as much as his deep voice. "How you doin'?" he would say to nearly every student that walked past, with a big smile and a nod.
"He was that familiar face," Scott said. "It doesn't feel the same because I always see Ruben standing there or directing traffic. It's a loss when you don't see someone you expect to see every day."
Administration has plans to unveil a garden in Delgado's memory; as of right now, the custodial staff has planted purple flowers and posted photographs of Delgado off the side of the gym near the tennis courts. Also in the works are a brick dedicated in his name and a service to be held on campus after Spring Break.
At the conclusion of his memorial service, Delgado's large family filed out of the church, followed by the rows of people in the pews. There were soft smiles and nods of greeting. Outside, a friend of his for decades announced a nearby reception for all those in attendance before being corrected by a member of the family: it was a party, not a reception, because as several loved ones remembered during the service, Delgado would have wanted them to "cry a little, and then party hard."
Much of the crowd continued to linger in the small foyer before leaving, reading the posters students signed and taking in a photo collage that runs through Delgado's life, from a black and white picture of a boy no older than six to a beautiful photograph from only a few years ago, where the big man we all knew smiles at the camera, walking his radiant daughter down the aisle. The photos are sweet, heartwarming — epitome of Delgado's presence at this school. In so many of them, he is wearing Matador gear.