Theatre: 'The Would Be Gentleman' story is ridiculous, but very real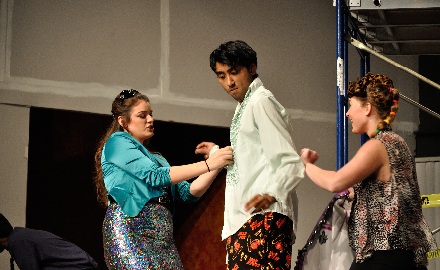 Smitha Gundavajhala
March 9, 2013
"The Would Be Gentleman" opens on an intricate construction set, complete with ins and outs and levels. The workers seem to be ignoring the audience, who almost feel as though they are intruding on something they're not supposed to see. Only the pithy dialogue and the charisma of the characters lets the audience know they're watching a play.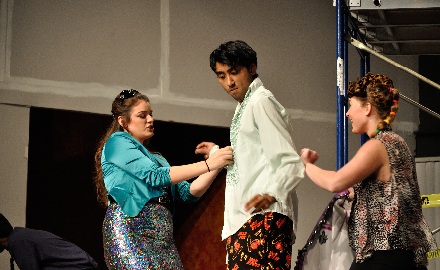 The rest of the play proceeds in a similarly natural fashion. The protagonist, dot-com billionaire Michael Jordan (senior Vineet Vijaykumar) is ridiculous — a man who is described as "a total loss." Yet, there is something very lovable and real about his situation that we all identify with: his ambition.
Poor Jordan's misguided sense of ambition causes him to place his faith in the people that least deserve it, from a parade of life coaches to smarmy celebrities. "We're all selling ourselves," says Jordan's (fake) rap teacher. "What matters is the price you command."
Jordan commands the highest price. He constantly aspires to become something great in order to achieve fulfillment, which he attempts to measure by wealth and power, including that of those around him. He even attempts to prevent his estranged daughter, Lucy, from living with her boyfriend Cameron since he's not rich or well-connected. When his attempt to surround himself with only the wealthy and influential doesn't work as expected, hilarity ensues.
The actors bring life to Jordan's story with seamless acting. They interact well, and the lighting is carefully designed to bring out their emotions and expressions in a very natural, very human way. The audience is not only drawn into the play by the story, but is charmed by how the actors present it. Between snappy dialogue by Jordan's sister, Julia, and his sassy assistant, Nicole, the antics of an endearing Cameron and Lucy, and the perfectly executed villainy of all those that use Jordan, the actors bring an ineffable humanity to these admittedly ridiculous characters.
"The Would Be Gentleman" is peppered with well-known references, from the pop-based soundtrack (including such tracks as Beautiful Girls by Sean Kingston and Glamorous by Fergie) that dates the play to 2007, to the MVHS-related moments, including the mention of a "straight-A valedictorian from Cupertino." The play itself, written by Kit Wilder for the MVHS community, is delightfully fresh and unforced in its flow, but the messages resonate with us all. We all hope to make something of ourselves, but there's a saying about what happens to the best laid of plans.
Even when dressed up in slapstick, the "Would Be Gentleman" is a mirror for our fears, insecurities, hopes and dreams — everything that we are as people and as students of MVHS. We all have the potential to make something of ourselves, and no better play could have been written to show us how.