Sports podcast: Week 1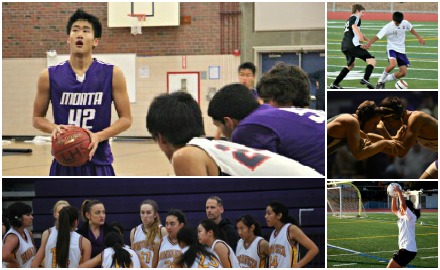 Join sports editors Carissa Chan and Atharva Fulay for a two-minute recap of the week of Jan. 7.
Hey Matadors, welcome to the first weekly sports podcast. We're Carissa Chan and Atharva Fulay. In this episode, we will be recapping the winter teams as well as other sports news.
Wrestling is having an exceptional season this year. They have won two tournaments and won their dual meet against Los Gatos yesterday. They look to send players to CCS.
Girls basketball is struggling this year with a 5-8 record, 0-3 in league after losing to Santa Clara, Mountain View and Los Altos. They are in sixth place in the El Camino league.
Boys basketball won their Friday game against Gunn but lost their Tuesday game to Santa Clara to bring their record to 7-8. They are in fourth place in their league. Junior Ramana Keerthi is currently the team's top scorer with 197 points and the rival game vs. Lynbrook is at 7:45 p.m. tonight.
Girls soccer lost to Saratoga on Wednesday by a score of 0-2. Their overall record is now 5-2-3 but with a league record of 1-2, they remain in sixth place in the Santa Clara Valley Athletic League.
Boys soccer lost their first two regular season games against Fremont and Palo Alto but won their third game against Wilcox. The team's leading scorers are brothers senior Bobak Ohadi and sophomore Brad Ohadi.
In other sports news, the NHL lockout ended on Sunday. About 50% of the season games were not played. The negotiation's terms include limits on contracts and salary floors and caps. Many NHL players joined other leagues in North America and Europe to keep playing hockey professionally during the lockout.
While hockey fans may be rejoicing, baseball fans are not. On Wednesday, voting for baseball's Hall of Fame took place and no players were inducted. The snubbed include Barry Bonds, Roger Clemens and Sammy Sosa, all of who were involved in steroid controversies. MLB plans to implement new drug testing for the upcoming season. Called it!
The San Francisco 49ers will play the Green Bay Packers tomorrow, Saturday, in a division playoff game at 5 p.m. The niners have an 11-4-1 record and are first in the NFC West.
That's all for this time. Tune in next week for another sports recap. Until then, we're Carissa Chan and Atharva Fulay. Thanks for listening.