Students and parents react to bomb threat on Dec. 13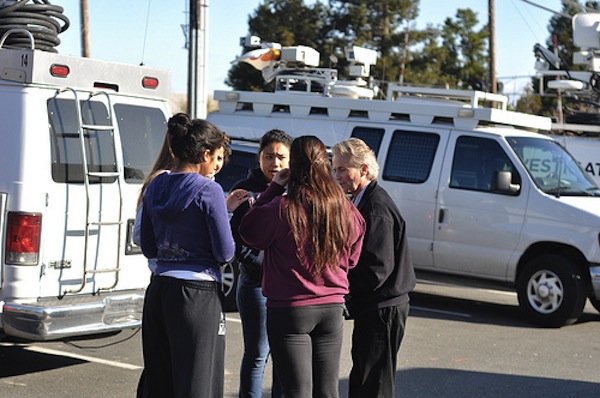 Cupertino community is shocked by false threats sent earlier this morning.
The
vandalism which took place on Dec. 13
 has already started to make an impact on MVHS students and the Cupertino community. Social networking sites — including Facebook, Tumblr and Twitter — were flooded with posts about the bomb threat, many of which expressed students' discontent.
Junior Alexander Pieb began a campaign for the victimized teacher. He created a graphic to show the school's support for the aforementioned. A number of students shared the picture and set it as their profile picture to show their support."At first, I was shocked that the school was facing a bomb threat," Pieb said. "But when I heard through, I believe it was Tumblr, that [a staff member] was specifically targeted and I saw the pictures, the threat felt more personal."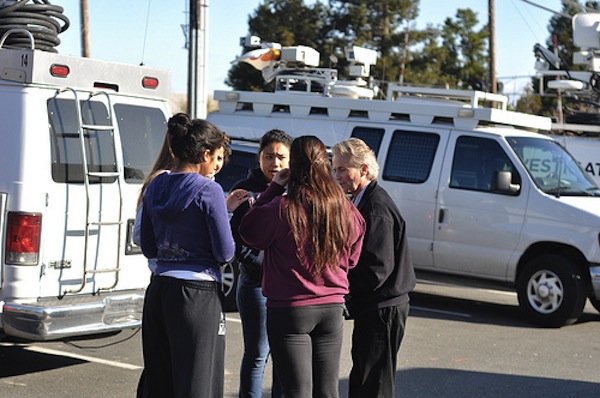 Others, such as junior Sophia Tao, questioned the spreading of the staff member's name on her Tumblr.
"At this time we really need to respect the privacy of the teacher," Tao said. "I mean, I know that everybody knows now, but we don't know how [the staff member] feels."
According to Pieb, there was no intention to compromise the staff member's identity, and he believes that the staff member will not be offended by their actions.
Many students were thankful when a call was sent out to students stating that the search had concluded and a bomb was not found on campus. However, some parents and students disliked the time that was wasted because of the false threat.
"It was basically baseless, there was actually nothing there," sophomore Ashmita Chakraborty said. "I think it was definitely some prankster who thought it would either be funny or they wanted to scare everyone for a day."
The community was also concerned with the security in Cupertino. This is the second time in two years that safety in Cupertino has been threatened; the first was the shooting at the Lehigh Southwest Cement Plant which took place on Oct. 26 last year.
"I didn't send [my younger daughter] to Kennedy because I was really worried," Ashmita's mother, Pompee Chakraborty, said. "Even though the schools are open, it affects the whole neighborhood."
Teachers will be forced to change their lesson plans to accommodate the incident. The threat posed concerns to students regarding these changes in their curriculum. Physics Honors students were supposed to conduct tests for their long-awaited "egg drop" lab, which has been canceled, according to a School Loop email sent out by Physics Honors teacher Jim Birdsong, due to the day's events.
"I feel like the hard work that everyone put into making [the device] really good is kind of negated," said Physics Honors student sophomore Etreta Thakker. "Yes, we're still writing the report, but after you do all that work, it's nice to see the results physically. It's nice to actually see how it falls."