Link Leaders team up with freshmen to study for finals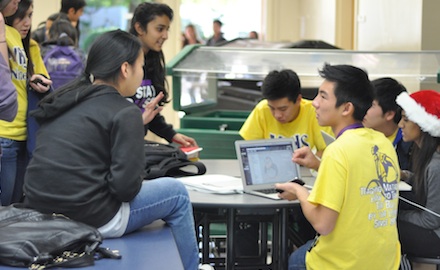 Freshman finals study week begins Dec. 3 with Link Leaders as tutors.
This year, all 120 Link Leaders have signed up for tutoring sessions, with 25 to 30 in the cafeteria each day. Promotion this year to encourage freshman attendance has also improved.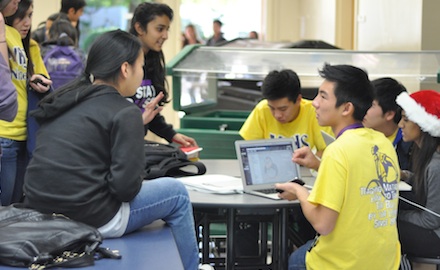 "Previous years, they would pop it on them two weeks before," Thiruvadi said. "[This year] we'd begun telling them a couple months back. We had it on our calendar and everything."
In the cafeteria, the freshmen split up by subject and were joined by Link Leaders, who had already signed up on a Google Doc for the subjects they felt comfortable tutoring. According to Thiruvadi, many Link Leaders have emailed freshmen blank study guides from classes they took their freshman year.
Freshman Ali Zaidi is one of the students who attended. He and senior Link Leader Fangfei Li read off a list of Spanish questions in preparation for an oral test on the first afternoon of the study session.
Senior Ameya Mahajan is another Link Leader tutor. Having taken AP Biology his junior year, he volunteered to tutor Biology. Being an AVID tutor also helps Mahajan with the material.
"When you study as a group and it's not goofy, it's not just with your friends, and you have a leader and they're taking you through the process," Thiruvadi said. "We feel like this way of working is more effective."