GIRLS VOLLEYBALL: Two players, one passion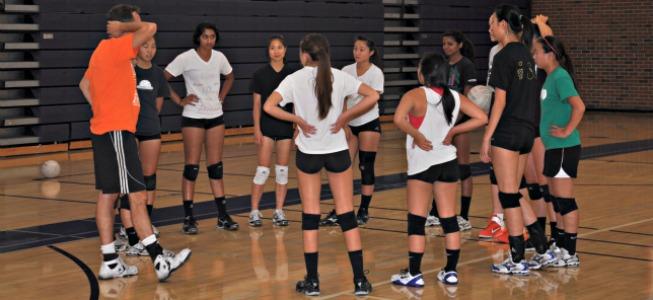 Christopher Song
August 24, 2012
Entering MVHS together, they competed for one spot. Seniors Serena Chew and Allison Yu pursued the same position on the varsity volleyball team in freshman year but have since become friends both playing significant roles on the varsity girls volleyball team. Chew, who has been on the varsity team since her freshmen year, plays libero and defensive specialist, while Yu, who played on JV her freshman year, can play a variety of positions including defensive specialist, outside hitter and setter.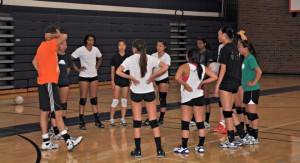 "We were both going for the same spot," Chew said. "We both noticed each other, you know, coming in as freshmen and both probably trying out for varsity."
Although Yu did not reach her goal of making the varsity team in her freshman year, she was placed on the same private club team as Chew. Chew and Yu have been on the varsity team together since their sophomore year, sometimes playing side-by-side, but usually competing for the same libero position.
"[Yu] is good at everything, even though she doesn't like to admit it," Chew said. "She is a good setter; she is a very all-around player. She is a good server; she stole my serving title in sophomore year."
As the 2012 season draws near, the two have become the leaders of the team, maintaining a friendly environment at practice. Matches, however, have a more serious and competitive tone, set by the team's two most experienced players. "In a game situation, we are very serious. During practice, we have fun," Chew said.
Chew, who is co-captain with Yu this year, is the vocal leader of the team, encouraging and pushing her teammates while running drills at practice. Her goals for the team this year include building a more connected team — both on and off the court — and communicating openly with head coach Colin Anderson. She wants team communication to be more crisp on and off the court.
And even though Yu is quiet and plays relaxedly, her teammates bring out a louder side. "I am not usually like that," she said.
"As a teammate, Yu keeps me calm," Chew said. "I am a much more fiery person, but Yu reminds me to just calm down sometimes, which is a good balance."
On Sept. 2, 2012 at 10:05 PM, a mistake was corrected. Chew and Yu are co-captains of the volleyball team this year.
EESN Profiles: Serena Chew and Allison Yu from El Estoque on Vimeo.