New teacher bridges three academic departments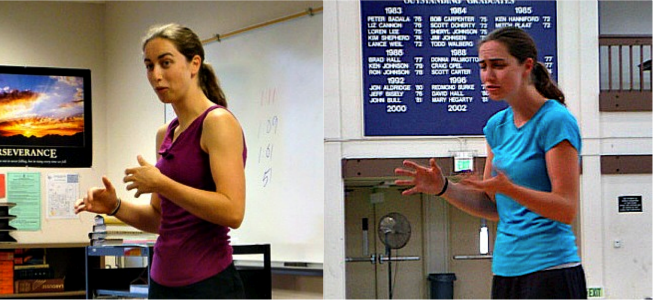 Spanish 2. PE 9. U.S. Government and Economics.
Individually, and occasionally in combinations of two, these three classes are commonly seen on schedules for teachers and students alike; but never have all three been grouped together at once.
Meet Ashley Stolhand, one of the few people whose schedule reads all three courses and the first teacher at MVHS to straddle three academic departments simultaneously, according to Executive Assistant to the Principal Diana Goularte. Stolhand teaches Spanish in the morning, Government right before lunch and PE right after.
"They're three really great departments … with really good staff members, and so [it's] been really awesome to get to know people and see students in a lot of different lights," Stolhand said. "Spanish class is run very differently than a Government class, [which is] is run very differently than a PE class. So I get a healthy mix of freshmen and sophomores in the morning and seniors in the afternoon."
Although Stolhand hasn't encountered any major obstacles so far, her schedule requires a great deal of organization and coordination with other staff members. Stolhand stresses the importance of doing her paperwork in advance. She learned this lesson the hard way at a previous school after inviting a state senator to speak to her Economics class — without first consulting her department chair.
"Thankfully there weren't any consequences; nobody was upset about it. But it was definitely something that I was like, 'Oh, I should have thought through that!'" she said with a laugh.
Social science department chair Viviana Montoya-Hernandez agreed, noting that communication is key.
"One of the things that Ms. Stolhand has been doing that's great is she's very responsive to email," Montoya-Hernandez said. "She answers her phone the few times I've tried to call her, she's at meetings or lets us know if she's coming or not coming; and so I think that makes the process easier for everyone."
Along with her strong communicational skills, Stolhand's wealth of experience also contributes to her teaching. Before coming to MVHS, Stolhand taught at a high school in Menomonie, Wis. and later at Fremont and Lynbrook High Schools. In between, she worked with five different organizations, including a tutoring program for the California-based nonprofit Community Youth Center.
"From those experiences, I've learned about working with all types of students [from] all age groups, backgrounds, ethnicities, socioeconomic [statuses, as well as those with] different interests and hobbies," Stolhand said.
A proud UCLA graduate, Stolhand has also worked as a high school basketball coach, a Dairy Queen employee, a high school tutor and a strawberry picker. At one point she even enlisted in the UCLA Army Reserve Officer Training Corps.
However, Stolhand was initially reluctant to enter the field of teaching. She'd once sworn she never would — until one day she decided to try her hand at it anyway. The rest is history.
"I was like, 'I was stupid. I was an idiot,'" Stolhand said. "Because I love this profession. This is the greatest job in the world. And I honestly don't know what else I could do."
While Stolhand acknowledges the challenges she will inevitably encounter, she also couldn't be more excited about the coming school year.
"All of [the subjects I teach] are something I'm passionate about," she said. "I'm excited because every day is a new day, and every class is a new class — it's a new group of students and it's a new subject, so I definitely get to get a fresh perspective and a fresh outlook every day. Multiple times a day."