Welcome, young fountain hopper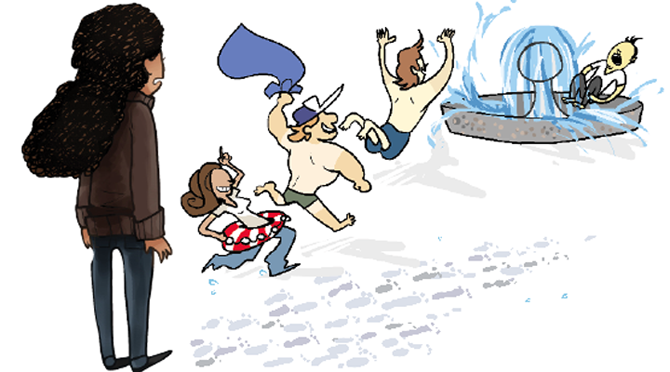 Writing about my old fashioned sensibilities in this column has come to the point where my parents (or my dad, anyhow) are genuinely afraid of how college will turn out for me. And now that I think about it, if I have issues with blaring pop music, half-naked people, vulgarity of any sort and what teenagers consider "having a life," then things are nearly guaranteed not to go smoothly for me down the road.
So I decided to get a glimpse of how life will be when I get into college. In retrospect, I realize that the likelihood of going into this college is astronomical, but it was  worth fantasizing about anyhow. Stanford. Renowned for being in our backyard, close to Indian restaurants, and filled with Einsteinian geniuses, Stanford seemed to be the place for me. An educational institution tame enough for an old-fashioned columnist.
But visiting Stanford really made me stop and redefine what a tame university is.
Creepers galore
My original intention was to visit a friend from Washington who was attending Admit Weekend at Stanford. As she was also accepted to MIT, Yale, Caltech, and other hotshot schools, I decided that it was high time to meet up with her because:
1. I might very well never see her again.
2. I might never again get the opportunity to pose as a Stanford admit.
So there I was, on a Saturday afternoon, walking up to the Hoover Tower to meet my friend. We chatted for a bit and then decided to go to her dorm. After getting lost a few times, we ended up at the FroSoCo, the Freshman- Sophomore College dorm.
And I swear — those rooms are one-fourth the size of my own bedroom at home. How someone can manage to fit their bed, belongings and books in there still remains a mystery to me. Yet it was in one of those cramped up rooms that I learned the truth about Stanford — creeping is a tangible threat.
My friend was there for just 48 hours and a creep was already on her, spontaneously asking her to go swimming with him alone, even though she barely knew him. The night before, he had whisked her off on a three-hour hike to The Dish (claiming that the 4 mile hike would only take 30 minutes), which immediately struck me as shady. Almost as shady as the fact they were hiking until past sunset and were escorted off the trail by the campus police.
I decided that if I met this guy that he would have to witness a demonstration of the flying kick I mastered in the PE 9 self-defense unit. Unfortunately, I never had the honor of making the fellow's acquaintance. I didn't tell my friend, but I'm sure she would have be glad I didn't beat him up, too.
Hoppin' in the water
I was still devastated by the triumph of creeperdom at Stanford as I was leaving campus, when I happened to pass "The Claw," a water fountain, on my way to the car. Except it was impossible to tell it was a water fountain because a good 30 to 40 people were busy jumping around in the chlorinated water.
Great. As if one creeper wasn't enough.
It was the outdoor equivalent of a disco, with people squirming around and making weird dance moves and yelping to the beat of music blaring from a stereo. I would say that 3/4 of the batch were shirtless guys high on the rush of being admitted to Stanford. But at least  the girls in the batch were fully dressed! (Thank goodness.)
Apparently, it's a tradition for students to splash around in Stanford's 25 water fountains, fondly dubbed "fountain hopping." It really told me a lot about the campus, that Stanford was not nearly as bookish as I thought.
I suppose the euphoria of being admitted to a prestigious college manifests itself as a mild case of insanity, so I'll stick to the good ol' adage — don't judge a book by its cover. When I apply to colleges in the fall, I will have to look past the potential creeps and half-naked fountain hoppers on campus and consider the college experience as a whole. Quite honestly, I'll have to come to terms with such oddities wherever I go, unless I decide to join a convent or something.
In any case, if I get into Stanford, you can count me in for fountain hopping as long as the gents keep their shirts on.