Sixth annual Art Show takes place on May 19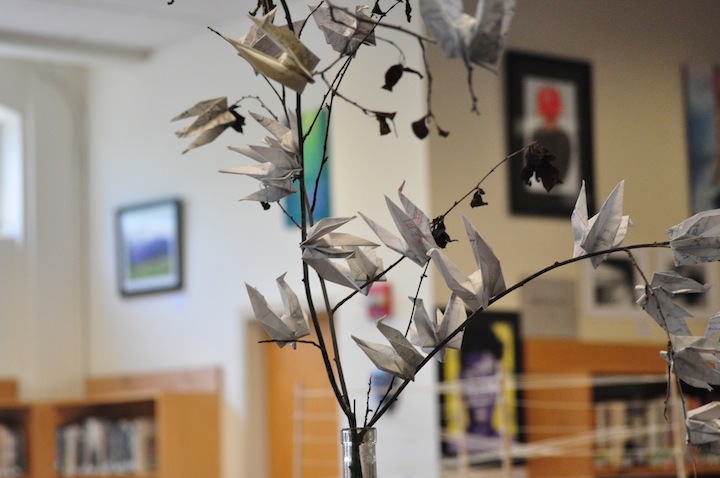 Smitha Gundavajhala
May 20, 2012
On May 19, art and photography students displayed works of art from this year at the sixth annual Art Show. The showcase was followed by dinner and an auction of selected pieces, most of which were photographs.
According to photography teacher Tyler Cripe, the showcase contained a mix of assignment and independent works, with the majority of works done for assigned projects. Those that were done independently tended to be photographs or drawings and paintings  by more experienced artists. For the show, teachers selected artists who showed the most potential. Then they helped students choose which pieces would be best to display at the Art Show.
"It was a tandem effort between instructors and students," Cripe said.
Cripe's favorite pieces included an interactive piece painted in nail polish that required the use of a blacklight in order to see missing parts of the painting, as well as a paneled painting of a tree that told the story of a boy and a girl as time progressed. He also mentioned a ceramic sculpture of a castle that had been on display for two years.
The art, once chosen, was put on display in the library a week and a half before the actual event. According to Cripe, it took time for the pieces to be hung and framed with the proper description. Some students hung up their own paintings, while others helped set up in general. Senior Deepti Menon, whose piece "For Wunderland" was on display at the Art Show, was not as involved in the process of setting up in the days leading up to the event.
"I was surprised to see [my painting] because [art teacher Brian] Chow approached me about using it a long time ago," she said.
Hers was a three-dimensional piece for a project on repurposing, or taking parts of old objects and making new art out of them. "For Wunderland", adorned with cut-up playing cards and glitter, was inspired by "Alice in Wonderland".
Her piece reflected one of many different styles represented at the Art Show. The selection of artwork included comic strips, self-portraits, structures, photography and even clothing. Above all, though, the Art Show reflected the fact that the creative spirit of students remains strong.
This article was updated with a photo gallery on May 20 at 11:45 p.m.
The featured image for this article was updated on May 28 at 3:21 p.m.