First tragedy: David Warren Johnson takes his own life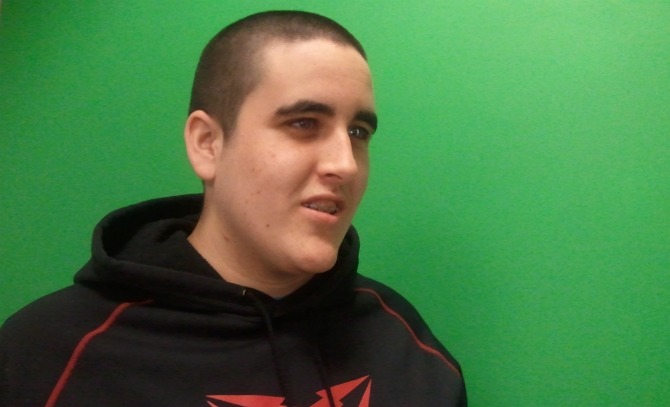 On Dec. 16. 2011, David Warren Johnson, sophomore Robert Sulgit's cousin, took his own life. He parked his car by the Golden Gate Bridge and jumped off into the rocks below. Immediately before, he texted his girlfriend and his best friend, giving a very vague indication of what he was about to do and where they could find his things.Robert Sulgit and I are good friends. I've known him since the 5th grade, and since then we have spent countless hours playing video games, watching movies and discussing various inane topics, such as our favorite television shows and ways to survive the zombie apocalypse. We have helped each other through tough times, but Robert recently went through a period that even I could not possibly assist him in.
Going into this interview, I was nervous. I had seen Robert both sad and angry before, and it wasn't a pleasant sight.
To my surprise, as we began the interview, Robert acted normal. His nonchalance blew me away and left me with even more respect for him because he could handle such a traumatizing event so with such composure. Robert managed to make me laugh and lighten the mood of the interview to a degree.
"His phone was in his pocket, it wasn't destroyed. iPhones, quality products,"he says, chuckling.
But as Robert began to recount the harrowing events of late last year, he set aside the opening pleasantries and jokes.
The morning of the incident, Robert had texted Johnson asking if he wanted to play a new video game, but there was no response. When Robert later heard the news, he had been helping his mother with an event at Garden Gate Elementary. Afterwards, their car broke down, so they called Robert's dad who told them, When you're done with that come home." No details. No explanation. Just "come home." At first Robert thought it was his grandfather, who hadn't been in the best health. But he soon learned the truth from his father.
"At first I was devastated," Robert said. "I sat in my room for what must have been eight or nine hours just staring."
Robert was at first overwhelmed with grief and shock, but as time went on, he began to analyze his cousin's decisions.
"Then I was angry," Robert said. "That was the most selfish thing you could do, and I haven't forgiven him for it."
Johnson's final message was worded so that his girlfriend thought it was merely a break-up text. She did not think anything fatal of it until Johnson's best friend called her, saying he had received an identical message. Alarmed, her father notified the authorities immediately.
"I didn't see it coming; none of us did, not even in the slightest," said Robert. "There was nothing wrong. He had a car, a job, a girlfriend. Things were working out great for him."
Johnson's farewell note said that he was "terrified of the future." His decision baffled family and friends alike.
"What would be — what could be so terrifying?" asked Robert. "At first, I thought his girlfriend might have been pregnant — but she wasn't. Then I thought maybe he had committed some sort of crime, but [that was a ridiculous idea.]"
In the week immediately after the incident, Robert mainly kept to himself until the family met for Christmas dinner. Instead of the usual celebratory mood, the gathering mainly consisted of the mourning of David, recounting his life and helping each other cope with the tragedy.
"I would have tried to alleviate the situation, but I didn't want to—I don't know—take the importance away from it," Robert said. "Things finally brightened up when my sister came later that week with her boyfriend."
However tragic the circumstances, the mystery around Johnson's decision plagued the minds of his family/. The shock of Johnson's death caused Sulgit to question much about his late cousin.
"If there was some side of [Johnson] that drove himself to do what he did, then what do I really know about him?" Sulgit asks. "Suicide is the most selfish thing. You could rob a children's orphanage, but there is nothing more selfish than suicide. Nothing."
Despite how hurt he may have been, Robert, along with many of Johnson's friends and family gathered on multiple occasions to honor his life. There was a small memorial prior to that on Jan. 8 for more immediate friends and family.
Sophomore Blake Nishimoto, a close friend of Robert's, attended the memorial and remembers the somber occasion. Family and classmates of David mourned his death by reflecting on his life through discussion and even poetry.
"I started to get to know him after Sulgit started inviting him to his birthday parties," said Nishimoto.
Nishimito and Johnson became acquaintances, though only really hanging out when their mutual friend Robert organized or was a part of the get-together. Nothing about David struck Nishimoto as irregular or troubled.
"He was kind of like the life of the party," recounts Nishimoto "He just seemed … like a normal 16- or 17-year-old kid."
Nishimoto and his mother , close friends with the Sulgits, found out when they visited the week after the incident. Nishimoto remembers that the grieving atmosphere still pervaded the household, despite Robert's more relaxed behavior.
"He seemed like he was okay with it, like he accepted it," Nishimoto said. "You could tell something was wrong, but he still made jokes and made us laugh and stuff."
Robert has ultimately accepted David's death and is coming to terms with the aftermath, but it has far from left his mind. It is something that a family can never truly recover from, and Robert knows this.
"Can I ever forgive him?" said Robert. "I don't know. Maybe, but not now."