You don't know Jack
His body curled up into a ball, lying on a hospital bed after several surgeries and chemotherapy treatments: he was motionless — except for a single finger brushing the back of his mother's hand.
"He couldn't speak, but he was just trying to thank [his] mom and give her the message," Chinese teacher I-Chu Chang said, translating his mother's memory written on a Chinese flyer. "He's that kind of boy."
Class of 2007 alumnus Jack Chin was diagnosed with Acute Lymphoblastic Leukemia in the summer of 2011, and has since had to embrace the unwelcoming hospital atmosphere for chemotherapy.
"In high school, you don't really think about these things. You realize in college, though, that you grow up fast and this will happen to someone," Chin said. "To me, it happened. To the guy who never thought it would."
A different kind of student
Three times a week, during his senior year, Chin would head up to the football field and run, trying to build the athlete's body that had always eluded him. Ever since the third grade, Chin had resolved to apply to Westpoint, the United States Military Academy.
"I wanted to be the guy who 'took the road less traveled,' who wasn't ready for an ordinary, normal life after graduating college," Chin said. "There's so much out there, you know. I would be doing something that none of my family, none of my peers ever did before. It's part of the adventure, not knowing."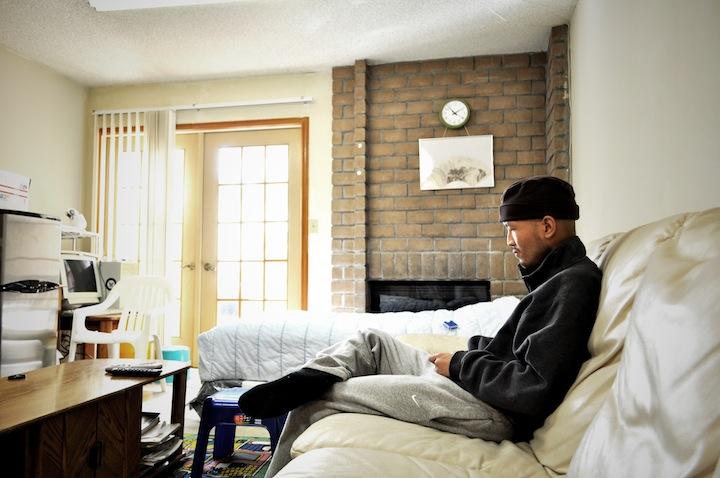 After an initial rejection following his senior year, Chin reapplied to Westpoint during his freshman year at UC Los Angeles and received admission for the summer of 2009. Though he accomplished his childhood dream, his time at Westpoint was not quite what he expected. He never had an athlete's body — just a small frame, which made it hard for him walk for miles.
After painstaking physical challenges, nausea on hiking trips and failed gymnastics classes, Chin decided returning to UCLA was the best option for him.
"[At Westpoint] sometimes I got my ass kicked, sometimes it was just pure awesome," Chin said. "You take all of that and look back and say, 'Wow, it was a very personally rewarding experience.'"
Chin, according to class of 2007 alumna Steffi Lau, always laughs off his setbacks — a post on his Twitter reads: "Radiation feels super weird. I hope it turns me into The Hulk." Even in our conversation, amidst the coughs and wheezes and slurred words, he still managed to laugh.
The first symptoms and diagnosis
In June 2011, Chin began to feel a severe pain in his thigh that spread below his kneecaps, before flaring up again in his other leg.
"It kept getting worse and worse. My mom thought I had bad posture," Chin laughed. "Literally, we didn't have a better reason."
Finally, after six weeks of pain, minimal sleep and many Tylenol pills, he couldn't stand it anymore.
On July 27, 2011, after several blood tests and MRI scans at Good Samaritan Hospital, Chin was diagnosed with Acute Lymphoblastic Leukemia, shocking his friends and family members — except for his grandmother in Taiwan, from whom Jack hid his condition by not disclosing his Chinese name to the World Journal.
For patients with ALL, their fast-growing lymphocytes, white blood cells normally used to fight infections, fail to function. These abnormal lymphocytes began to crowd out his red and white blood cells, as well as the platelets in his joints.
"When the doctor said, 'Oh, your bone pain will be gone in three days after the first dose of chemotherapy,' I was like, 'All right, let's do this!'" Chin said. "After that, I was like, 'Holy shit, wait, he just told me I have cancer! Oh my God!'"
A summer internship at Visa; his final year at UCLA, a Hong Kong study-abroad trip culminating in his major in economics, a full-time job interview, and tickets to the video game convention Blizzcon — he had to drop them all.
"Everything that I had worked so hard for just got magically taken away," Chin said.
Furthermore, though Chin learned that chemotherapy might reduce the pain, there was still a chance the cancer would return.
"Each progressive piece of news and realization makes you even more depressed," Chin said. "Not everything hits you at once."
Chemotherapy
Chin had no choice but to get over his fear of needles. The intrathecal chemotherapy entailed a number of needles and catheters inserted into his veins — in addition to radiation therapy to his brain, spinal punctures between his vertebrae to insert medication and surgeries from the resulting complications of the treatment.
"You can either go in and be brave or you can go in kicking and screaming but they're going to stick that needle in your spine anyways. Just do it; you're gonna stab me? You're gonna stab me."
The worst news came to Chin after several months of chemotherapy. On Jan. 13, he learned that his treatment was not moving towards remission and he needed to find a bone marrow match. In order to prevent future relapses from occurring, Chin needed to replace his abnormal cells with healthy ones from a compatible donor.
However, the bone marrow of his own fraternal twin brother, Class of 2006 alumnus Jim Chin, did not match his and the likelihood of Jack finding a match is 1 in 20,000 — yet without a match, he will not survive.
After the news and taking action
Jack Chin was lying in the backseat of the car on his way home from Good Samaritan Hospital. His head was down; he was crying while trying to control his voice when speaking to his parents. He knew his chances of survival were, according to Jack, "severely in the gray area."
"Now I'm going to have to beg for my life to get people to donate. It's sad," Jack said. "It wasn't quite a death sentence, but … I honestly felt like it was pretty close for me."
Jim, on the other hand, found himself jumping in action to find a match for his brother.
"I was trying to be as professionally focused as possible," Jim said. "I tried to focus on the things we needed to do as a family to help Jack out."
The Chin family remains hopeful despite Jack Chin's low chances and has since been spreading the word about his need for a bone marrow match through the San Jose Mercury News, Cupertino Patch, KTSF television channel and Chinese newspapers such as The World Journal.
According to the Be the Match program, a national marrow donor program for which the Asian American Donor Program provides registered donors, marrow transplants can only occur through closely matching Human Leukocyte Antigens. HLAs are genetically inherited white blood cell markers. Hence, the likelihood of finding a matching donor is higher amongst members of the same ethnicity as the patient, which in Jack Chin's case is Chinese.
Potential donors' cheek cells are tested for six HLA markers to determine whether the marrow transplant will be successful. According to the AADP, which holds donor registries to find marrow matches, about 70 percent of other patients with immune system diseases such as leukemia are unable to find a bone marrow match within the family.
Jim Chin has been coordinating donor registries around the Bay Area, specifically in Cupertino due to the large number of Asians in the area. According to Be the Match, only seven percent of registered donors nationwide are Asian.
The community's response
Jack's story spread throughout Facebook and Twitter to alumni, students and staff. After attending the donor registry held at the Cupertino Library for Jack on Feb. 4, art teacher Brian Chow and science teacher Pamela Chow, who both taught Jim, were anxious to spread the word to the MVHS community.
Brian Chow recently launched a public relations campaign for Jack, as he believes it will not only generate more support for him, but for others in need of bone marrow matches as well.
"It's basically all hands on deck. Everybody can help with this," Brian Chow said. "It's not just 'Let's just have a nice drive and maybe we'll get something out of it.' It's like, 'No, let's keep pushing more' because there's always going to be people that need this. We're not just pushing the ball, we're making it run on its own."
Part of Brian Chow's campaign involves posting portraits of students and alumni across campus buildings in the hopes that conversations will spread regarding Jack's search for a matching donor. So far, Chow has taken over 30 pictures of seniors, alumni and local community members. Once the pictures generate enough curiosity among the student body, he intends to post pictures of alumni in local areas, off campus.
Jim has planned donor registries for Jack on March 10 at the Sunset Library in San Francisco and on March 25 at the Cupertino Library. Octagon's March 24 Cure Cancer Cafe will also have a booth with information on Jack and how to help. Lau has been circulating a press kit to publicize Jack's story and created Facebook and Twitter pages to spread the word. California State Senator Leland Yee tweeted about Jack Chin's search for a match on Feb. 9 and Facebook's "Like of the Day" was dedicated him on Feb. 11 as well. Many others have retweeted Operation Save Jack's campaign slogan, "Think cancer will win? #youdontknowjack" to promote the marrow drives and his search.
Brian Chow has also gotten in touch with actor Michael Paul Chan with plans to make a PSA announcement for Jack, and, additionally, Chang created a Chinese flyer about Jack to spread in the community — particularly in busy areas such as the Asian shopping center Cupertino Village.
Complications
The efforts of alumni, Brian Chow, Chang and other staff members are driven towards not just finding Jack a match, but also persuading more Asians to join the donor registry. Though many of Jack and Jim's friends have shown their support by hosting drives and registering to donate, they all agree that myths surrounding the donation of marrow renders it difficult to convince those not acquainted with Jack to register.
"I think that a lot of people don't know that all it takes is a cheek swab. I've gotten flat out 'No's,' which I was pretty surprised about because you could do something so easily, in just five minutes, to save someone's life," Lau said.
If a donor's bone marrow does match that of the recipient, he or she must first pass a physical test, and be above age 18 but below 61, in order for a healthy transplant to occur. According to AADP Recruitment Director Ruby Law, approximately 25 percent of all transplants are done through the marrow procedure, in which a needle is inserted into the back of the pelvic bone to retrieve liquid marrow. This process is conducted while the donor is under anesthesia. The other 75 percent of the time, Peripheral Blood Stem Cell donation is carried out, in which patients receive a medication which causes them to produce more blood stem cells, subsequently released by the bone marrow into the blood. These stem cells are retrieved through a regular blood draw. After donating, many are able to return to work within one to seven days, according to Be the Match, and are completely recovered in approximately three weeks.
"There are a lot of myths," Jack said. "Some [people] say, 'Oh they're going to drill into my bones.' No, that's what they do to me."
A gray, but optimistic future
If Jack Chin succeeds in finding a matching donor, he plans to "bounce right back and hustle" to reclaim his internship, job and — of course — his Blizzcon tickets.
"I learned a long time ago, at Westpoint, no matter how bad things get, it's all in the past. I remember one time waking up in the morning to go on a long hike for miles and miles and carrying huge stuff, I literally was going to throw up all the way there. I realized that eventually you make it in the end and you find yourself in the hall with everyone eating lunch. You look back and say, 'Huh, the morning is over. That part is over,'" Jack said. "Tomorrow's a new day. In the morning you were suffering, and now you're okay."
This story was updated on March 18 at 4:45 p.m.