Senior Kevin Bishop recruited to run for Stanford University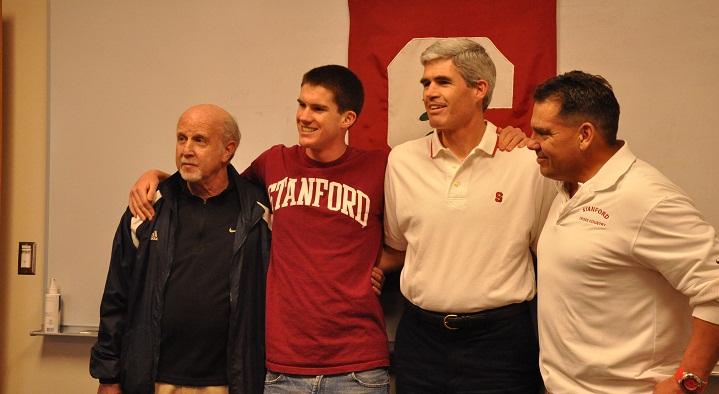 After seventh period on Feb. 1, the conference room in the office most closely resembled a convention on Cardinal pride. Stanford University paraphernalia was everywhere: a redwood-embroidered banner clung to the wall, red and white balloons floated at the back counter, and a Stanford baseball cap lay on the table. The centerpiece of the whole display, however, was senior Kevin Bishop, wearing a Stanford T-shirt, a Stanford lanyard, and a wide smile.The reason for his happiness? On Feb. 1, Bishop signed a contract with Stanford University stating that he would attend their school and run for their Cross Country team the following academic year."This has been something that's been in my hopes and dreams for as long as I can remember running," said Bishop. "But to actually get here and put pen to the paper is definitely surreal."The signing of the physical contract — which occurred in the presence of Bishop's family and coaches, as well as Bishop's counselor Kate Duphily and Assistant Principal Brad Metheany — solidified a verbal agreement that had already been in place between Bishop and Stanford Men's Cross Country Head Coach Jason Dunn. In the fall, Bishop will be joining Stanford's 25-man Cross Country team, which has consistently been ranked among the top five in the nation.
"He's worked, he's worked as hard as anybody I've ever trained with," Mike Dudley, one of Bishop's coaches, said. Bishop has been trained by private coaches Dudley and Willie Harmatz as well as MVHS coach Kirk Flatow. "It's just been a real joy to watch the success that he's had and to see the results."
Stanford is not the only university that wished to recruit Bishop for their team; he has received calls from Georgetown, Harvard, Princeton, Yale, Columbia, Brown, Syracuse, Oklahoma State, New York University, University of North Carolina at Chapel Hill, and University of Oregon. This deluge of offers brought delight to Bishop's whole family.
"We saved the messages on the answering machine, but it only holds so many messages, and it would keep saying, oh, you have one minute left," said Kevin Bishop's father Cary Bishop. "And we were like, what do we do?"
After multiple college tours — all expenses taken care of by the recruiting university — Kevin Bishop ultimately decided on Stanford because of its balance of academics and athletics.
Bishop has a track record that piqued the interest of these top universities. In his junior year, he placed first at CCS in the 3200 m as well as at the Stanford Invitational in the mile, among other prestigious titles. His record for the mile is 4:17, and he can run two in 8:59 — down from around 9:20 last year and 9:40 the year before.
"It's a linear regression," he joked.
He figures that, at this rate, he can beat the world record of 7:58 in three years. Bishop intends to keep running professionally not just for those three years, but for many more.
"This is what I foresee myself doing for at least … until I'm 40," said Bishop. "This is what I really really really want to do. As long as my body will give me the ability to run faster, I'll take advantage of it."