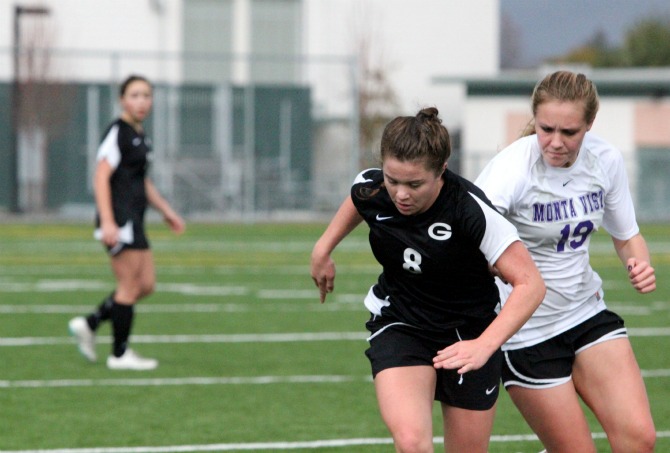 The Lady Matadors (1-2-2) challenged Gunn High School (1-2-2) on Jan. 20 at Homestead High School, and won 2-0. Great teamwork and passes helped the Matadors to score the two crucial goals needed to battle well and make a great tackle.
"We played as a team," assistant coach Greg Wendschlag said. "The past couple of games we kind of struggled; there was a lot of individual effort, but today everybody worked well. You can tell by the way we transitioned the ball. And when we got the goals, it was two-or three people combinations."
About 16:33 into the first half, junior Hadar Sachs shot it through the right corner and Gunn's goalkeeper blocked it. However, senior Jessica Rahn tapped the ball in off of the rebound of the goalie, giving the Matadors their first goal. Sachs' assist proved vital once more — 34:23 into the second half, she ran down the line, cut in to the middle, and passed it to senior Kaylene Reid who came from the right side and shot it in the right corner.
"I kind of wanted to score, but I didn't," Sachs said. "But that's totally fine because I'm very glad we won. Recently we haven't been doing as well as we want to be doing, so this is a good start to keep on a winning streak."
The first half started on a less stressful note than the girls' previous game. Returning goalkeeper junior Gal Haroush successfully tucked Gunn's attempts at scoring, and the Matadors' offense was able to find through balls and drive towards the goal. Due to the drizzling weather, both teams experienced slipping and sliding, but the girls were able to complete strong passes and effective flicks despite the slippery turf. Sachs ran down the sideline multiple times, of which during one she passed to junior Lauren Hanson, who shot but hit the goalpost instead. However, after constantly driving, Sachs and Rahn completed a successful combination and scored the goal that brought the Matadors in the lead.
Despite the playing against the wind during the second half, the girls managed to keep their lead. The Matadors initially had trouble checking their shoulders for teammates who are open. Around 21:23 into the half however, Sachs had a nice touch and passed to senior Hannah DeBaets, showing the team's improvement in scouting for each other. At 32:33, Sachs attempted to shoot but narrowly missed. Sachs made up for her failed attempt by assisting Reid at 34:23, cementing the Matadors' win with another goal.
"This game sets us up to be solidly in third place in league, so that puts us right in the hunt for CCS … get a couple more wins and we look good to make CCS," Wendschlag said.
The team's next home game, against Los Altos High School, will be on Jan. 27 at 3:30 p.m. at Homestead High School.