While personal change is often a result of outside pressures, junior Anjali Chakravarti has set this goal as a result of purely personal motivations. After a stressful, sleepless last semester, Chakravarti has decided to improve her perception of herself. She believes that out of a social life, sleep, and grades, you could only have two of the three. Last semester, however, she worked to attain them all. She fell short of her expectations, which resulted in constant disappointment.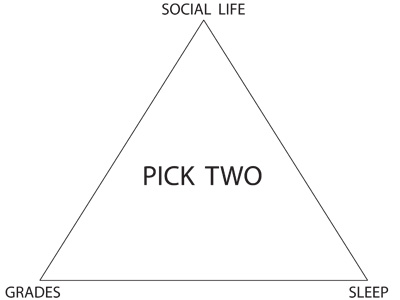 "I've spent a really long time disliking myself for the things that I do, the things that I say sometimes, the way that I look, the things in my past, so I want to learn to accept myself," Chakravarti said. "[I want to] have my own acceptance come from me rather than the people around me so that I'm happier."
Chakravarti told her plans to junior Sagaree Jain soon after the New Year.
"She sent me seven texts in a row explaining [it]," Jain said.
Chakravarti's current plan includes finding small ways to improve her personal judgements. For instance, when she gets ready for school in the mornings, she tells herself something positive rather than a litany of negatives.
"I would tell myself, 'Your hair looks nice today' or 'You made somebody smile yesterday, let's see if you can do it again,'" she said.
So far, things have been going well. Jain sees Chakravarti as happier and less exhausted, having managed her time well and planned her work in advance. On Jan. 19, Chakravarti took a quiz three days in advance so she could have more time to study for a test in Joe Kim's pre-calculus class.
"I find that I'm a lot happier everyday," Chakravarti said. "As one friend put it, she loves me so much she can't see how I don't," Chakravarti said. "And she's really happy than I'm working towards being able to accept myself more."