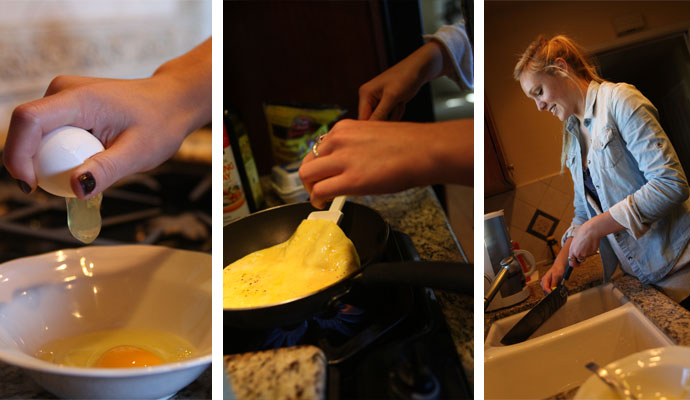 For many a high schooler, washing dishes is a bore. So is doing the laundry. Making dinner? Unheard of. But after senior Jessica Rahn saw how hard her parents worked to support her for her entire life, she was determined to keep this year's New Year's resolution not for her own sake — but for her parents'.
"A new year was coming and I was thinking [that] my parents are like, my entire life. They do so much for me, and I wanted to give back to them," Rahn said. "[The things I want to do] are simple things, ultimately spending more time with them because I feel like I'm not home that often."
While Rahn considers her family to be close-knit despite her absence at home, it was not until recently that she recognized all that her parents had done to support her. Both are hardworking, a trait Rahn admires and has decided to learn from. She first got the idea from her brother, who goes to school at the University of California, San Diego and started doing chores around the house whenever he was in town. According to Rahn, her parents quickly noticed the change in his behavior and his increase in maturity. Her brother's example motivated her to start taking more responsibilities around the house when she could.
The inspiration from her brother pushed her to try something new. This is the first year Rahn has made a New Year's resolution. It is only the timing of her decision that allows her to use this term; to Rahn, resolutions should be made made year-round, not just annually.
"I believe in New Year's resolutions, but not completely; if I want to make a change I'll do it right then, I don't have to wait until the new year," Rahn said. "It just came to me: helping my parents."
This past year, Rahn had lost 15 pounds because she had set a goal for herself to become healthier. She did not consider it a resolution, but rather something that needed to be done, and upon deciding to do so she had committed right away. In the same way, Rahn has simply decided to move on to another goal, this time one that would benefit more than just herself.
"They're always gonna be there for me, sometimes I feel bad because I take advantage of that," Rahn said. "I wouldn't be who I am today if it wasn't for my family."