Furry Friends visit to help students de-stress
An offhanded comment at the beginning of lunch on Dec. 12 explained it all: "Who let the dogs out?"
The answer: senior Danielle Kim and volunteers from Furry Friends Pet Assisted Therapy Services. And they didn't just bring a few dogs — they brought fifteen.
Furry Friends is a non-profit organization of pet owners who spend time volunteering in the community by taking their therapy pets to convalescent homes and hospitals. For example, Kim brings her dog, a black and white Labradoodle named Mochi, to an Alzheimer's rehabilitation center twice a month.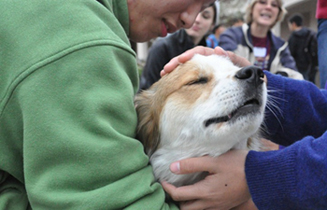 This is the second time Furry Friends has visited MVHS. The first time was at the end last school year, with the goal of dissipating anxiety students were experiencing from second semester finals.
"It was really fun to see people unwind and have fun," Kim said.
In fact, her own dog was what drove Kim to create the original event last year. Last year, while studying for finals one night, she petted her dog and realized she felt less stressed afterwards. This caused her to stop and think for a second.
"I wondered, 'oh, what could that do for other students who were probably more stressed out than I am?'" Kim said.
Kim had good reason to believe dogs could help others. "They do play a role in stress relief," Rhonda Hardy, Kim's team captain in Furry Friends, said. "And there's research behind that. People's blood pressure [and] their anxiety level goes down when they are petting a dog."
Kim then approached counselor Sarah Hershey about the idea, who remained skeptical at first, believing Kim was simply wanted to bring her own dog to school. But Hershey realized it was a good idea once she discovered Kim was a member of Furry Friends, and directed Kim to assistant principal Dennis Plaza, who arranged when Furry Friends could visit last June and the number of dogs to be brought in. Seven dogs eventually visited MVHS because Kim was not sure how popular Furry Friends would be on campus.
"[On the number of dogs,] I just told [Plaza], 'just a small group, see how it goes,'" she said.
In the end, she believed last year was a success; she recalled her and Mochi interacting with at least thirty people alone. Plaza too was very enthusiastic on how successful the first Furry Friends visit was.
In fact, it was Plaza who brought up the idea of Kim bringing back Furry Friends in December while interviewing Kim for her counselor letters of recommendation. This time, its mission was no different than the last: help students de-stress for their upcoming final exams.
"Hopefully it will take their focus off whatever's on their mind, whatever may be troubling them, the deadlines and things," Plaza said, "and just get a chance to connect with the warm fuzziness of petting an animal."
If the never-ending stream of joyful squealing and fawning was any indication, or the many instances of students posing with photos with the dogs, or the shrieks of "He's so fluffy!" and "He's so cute!" filling the air, then the Furry Friends visit was a success. Or perhaps some of the comments made after meeting the Furry Friends, such as "Now I wish I had a dog!" or "I think I'm in heaven right now," could provide a measure of whether or not the day met its goal.
And for those who miss the dogs already and wish they could come every day, or for those who never got the opportunity to pet one during the visit, don't worry—Kim plans to bring them back at the end of next semester.
View a photo gallery of all the Furry Friends on flickr