La Pluma is open for student submissions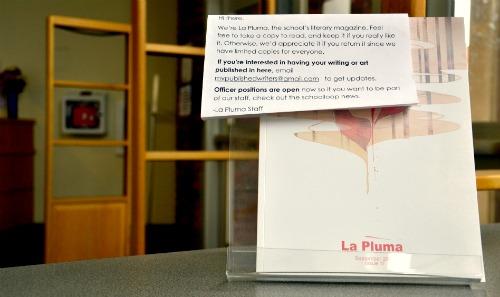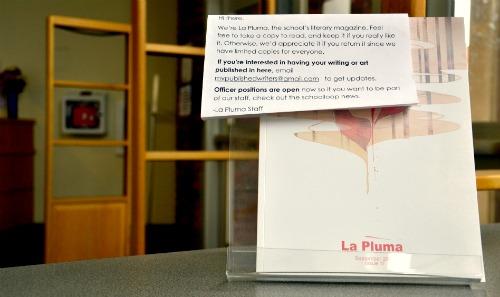 "Imagination is the sub-conscious, internal view of a person. When you meet someone, you may see facts about them, but you don't see how they think. Creativity lets that inner-self, that imagination show," La Pluma president senior Michelle Jiang said.
La Pluma is a club that was started in 2007 by class of 2010 alumni Kanwalroop Singh and Somel Jammu. They had the intention of making La Pluma into a creative outlet for students to showcase their art, photography, and writing in the form of a literary magazine.
Other student-run publications do offer a space for student work and writing, but it is not just the same. "We're the only club that allows students to submit [their creative work]," designer senior Helen Han said. "No other club does this."
However, while La Pluma strove to churn out an issue every semester, financial problems have continued to plague them. In an attempt to give students the best quality magazine possible, the club officers sacrificed time constraints for a better, free magazine, filled with as many student works as possible. Printed on 80lb photo paper and completely designed by Helen Han on Adobe InDesign, the issue scheduled to be distributed last Fall was pushed to the beginning of this school year.
In order to raise money for the new issue, La Pluma plans to set up a coffee house in the cafeteria on Jan. 13. Jiang submitted a proposal on Nov. 22 at the PTSA meeting, in hopes that the PTSA can match the amount of money raised on Jan. 13. The officers will sell food at the coffee house, such as donated pastries from Marie Calendar's, coffee from Starbucks, and self-baked goods if club regulations allow it.
The coffee house will also be hosting an open mic night where students can share their work on stage.
"People can do dramatic interpretations, share their work…so it's kind of like open mic night, yes. Except with coffee. And more sophisticated. And with writing," Jiang said.
Currently, La Pluma is also open for officer positions. Anyone, excluding seniors, can apply. The current officers will guide the new ones and show them how the club works throughout the year, hence the early application date of Nov. 25.
La Pluma also has no limit on how many student submissions they take. They will publish everything that meets their criteria of grammar and quality. Student submissions should be open after Thanksgiving break. Information on how to submit will be announced further on School Loop.