It was a sunless day for the cross country CCS Championships. The ground was muddy, and there was a chance of rain but the team shone through the gloomy weather with an outstanding performance.
Both the girls and boys teams had qualified for CCS, where they ran the 2.95 mile race to fight for spots to the State Championships. The 14 Matadors who competed ran smart races as they had hoped to in a preview of the important race day.
At the end of the day, the girls and boys teams placed fourth and sixth, respectively. The top two teams at CCS qualify to race at the California State Finals; this year, the two boys teams going to CCS are Carlmont and Belarmine, and the two girls teams are Carlmont and Gunn.
"We had a good CCS meet," cross country coach Kirk Flatow said. "[The top two teams] have really strong programs and pretty good years, so there's no shame in being behind them."
The improvement
Although neither team qualified for States, senior Kevin Bishop and freshman Jenny Xu placed in the top five for their races, and will advance to States. According to Flatow, both runners ran their best races of the season at CCS.
Bishop and Xu were telling signs of the significant improvement in general this season. The girls team moved from fourth place at Leagues to fourth place at CCS, which according to Flatow, is a huge improvement. Flatow attributed much of this to the hard work of individual runners like junior Risako Tanida, who was Monta Vista's fifth runner to finish."People told me that [Tanida's] freshman year, she was dead last in the League Junior Varsity race, not just on the team." Flatow said. "Now she's a scoring part of the fourth place CCS team."
Flatow hopes that Tanida's story will encourage anybody who's thinking about cross country to try it out.
"You don't know until you work hard how good you can be," he said. "You could go from slowest girl in league to scoring member of varsity in a couple years if you're willing to put in work."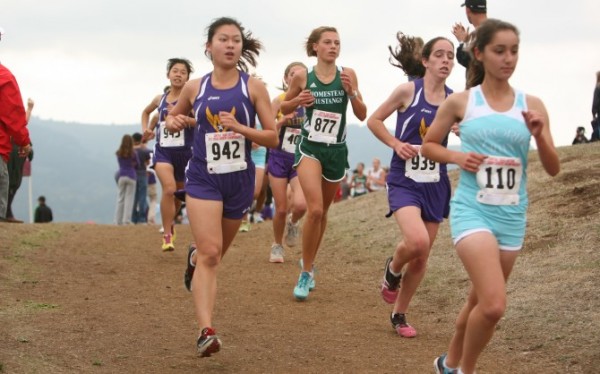 The cross country team's performance at CCS is testament to their willingness to put in hard work. Of the 14 runners at the meet, nine of them had their best races of the year, most of which were personal records. Xu had improved her time by 15 seconds. Bishop also set a personal and school record on the 2.95 mile race, and although he placed second, he is definitely happy with the result.
"I didn't walk away from the race with any regrets," he said. "I put up the best fight I could have put up."
The family
With States fast approaching on Nov. 16., Bishop and Xu will continue to train.
"[I'm] proud of myself, but in practice I'm lonely because there's no one else there," Xu said. "It's pretty much off-season training for the other people, but I still have to train for states."
For many, the greatest aspect of the season was not the meets but the team bonding. Flatow sees much of this in the sophomore boys, who would always run together and insist on doing additional repetitions together. The spirit of the team, however, is present in all grade levels. This team connection has been an integral part of the season this year in particular.
"I was never the biggest team guy," Bishop said. "But this season I've really realized what the team means, and not just to me. It makes the cross country environment a lot more special."
Xu, who is a first-year runner on the team, had not known anyone prior to the season. However, she also soon became close friends with many of the runners. She feels closest to the sophomore and freshmen runners.
"Hanging out with the team is my best part of the season," Xu said.
The team would work very hard during practices, but 15 minutes later, they would be laughing and goofing off. Flatow admires how the team has been able to keep the delicate balance of work and play. He notes that many people have a hard time understanding how a sport that involves so much sweat and pain and uncomfortableness can be fun.
To this, Bishop provides an explanation.
"The shared pain experience is a significant bonding between you and the teammates and the coach," he said.
Bishop plans to keep in contact with his current coaches as well as team members through college and into later life. Some of his closest friends are runners from different schools. Bishop believes that cross country is a team sport rather than an individual one, exact words that Flatow had voiced. They explain that the reason many people decide to join cross country is for the team aspect, and the program offers the tight support group in its team that many other schools may lack.
"I would not trade our [CCS] results for any other school's," Flatow said. "Carlmont has a good program, Belarmine has a good program, and Gunn has a good program. But I wouldn't trade our kids for their kids. Just look at our team. I'd rather be around them than anybody, and I'm really proud of what they did. We did great."
Correction 11/25: link to a previous article was corrected