Updated Nov. 14: The boys CCS team finished sixth overall, and the girls CCS team finished fourth overall. Senior Kevin Bishop and freshman Jenny Xu will move on to States, finishing in second and fifth respectively. Check back on elestoque.org on Nov. 16 for a full recap.
Cross country coach Kirk Flatow has been preparing his team for this race the entire season. And on Nov. 12, that race will come.
Both the boys and girls varsity cross country teams qualified for CCS after placing fifth and second respectively at the De Anza League meet Nov 1. The boys team will be racing at 12:20 p.m., and the girls team will race at 12:55 p.m. at the Crystal Springs course in Belmont. Last year, the boys varsity team as a whole qualified, along with individual runners from the girls team. This year, Flatow began preparing the team for CCS very early on.
"It's been a really strong season — the team has been working really well together," Flatow said. "If you're gonna achieve great things, you have to have a group and be very supportive of each other. Our kids really found that in each other, so you see groups of athletes all improving together, and that translated into some really good results in some meets."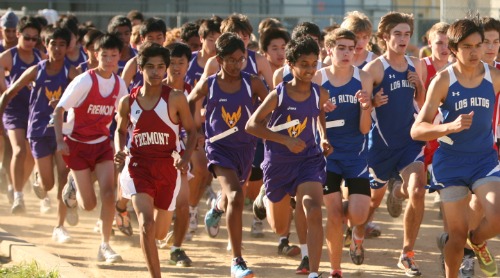 League results proved to be a testament to the team's hard work, which earned them several second place finishes in the competitive Division I, which includes Wilcox High School, Fremont High School and Lynbrook High School. The varsity girls also placed first at the Lynbrook Invitational, which also serves as the FUHSD Championships.
The training
Although the team had been pushing themselves hard all year, CCS calls for a different type of training.
"Part of [the] training theory says that depending on exactly which of your physiological systems you're training, whether it's aerobics or strength or your ability to clear lactic acid, it takes 5-10 days for that workout to result in physiological change," Flatow said. "Once you're within a week of CCS or of any championship race, you're not so much focused on improving fitness, but you're more focused on maintaining fitness and building up your strength and your energy resorts."
For CCS, the team has been training with shorter workouts but at the same level of intensity. Flatow stresses that the idea behind this change is to maintain fitness but take away the fatigue that often comes with long-distance running.
For example, for the Tuesday workout during race week, Flatow measured out a 1200 meter dirt path at Steven's Canyon for the athletes to run at their race pace with a two minute rest period in between. The team completed four repeats, whereas earlier in the season, they would have completed six of them with the addition of hills. On Wednesday, the workout was a set of 200 meter repetitions uphill to strengthen the Matadors' leg muscles and keep the nerves motivated. Flatow admits that it's a tricky process balancing the efficiency of the workouts.
"We have a lot of athletes who are really good at communicating with me, and so I think we're doing a good job of feeling out exactly how to manage that process," Flatow said.
The course
The Crystal Springs course is 2.95 miles long, with two main loops. The first mile is relatively flat, followed by a large hill. Due to the layout of the course, runners must cross the hill twice, then proceed on to the second, longer loop. Varsity girls co-captain senior Neha Jammu credits this as the hardest part of the race.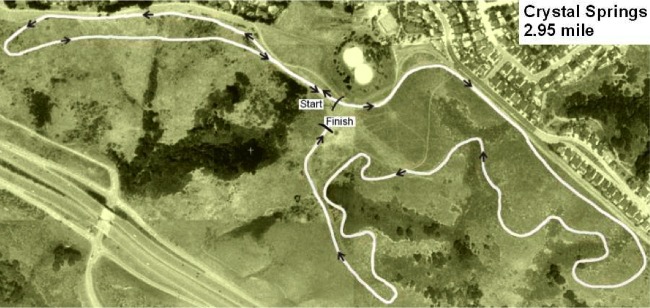 "The last 800 meters are probably the worst," Jammu said. "After you go up the second hill, you come to a point where you can see the finish, but you still have another 800 left, and you hear your coach yelling at you 'You have another 800 left' and you hear someone else's coach yelling 'You're almost done', so it's really confusing. Plus, for me, when you see the finish but you're not done, it's not the best confidence boost."
The CCS race will be the third time the team runs the course this year, since league meets and the SCVAL Preview meet were held at the same location.
The girls
Although the last time the girls varsity team qualified for CCS was in 2009, last year the team was only off by a few seconds from the overall qualification time. From last season, the girls team has been on a continuous upward trend.
"We've been placing higher as a team this year," Jammu said. "[Freshman] Jenny Xu has been first every meet and [senior] Pearl Law and [sophomores] Bridget Gottlieb and Kirsten Do have been doing really well too."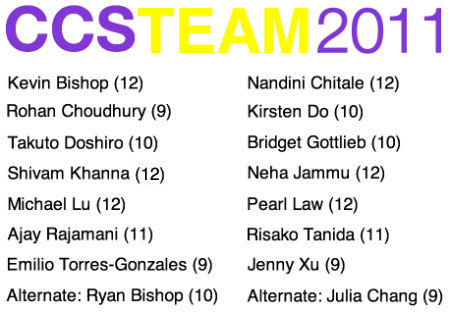 During the race, the team employs pack racing, in which runners pace themselves with the teammates around them. Individual runners then pick a "sprinting moment", choosing to sprint 30 to 60 seconds right before the finish line. With these strategies and a familiarity of the course, Jammu believes that the team will perform well.
"The entire team can probably qualify [for California State Finals], but there will be certain people who will qualify individually," Jammu said.
The boys
Unlike the girls' season, the boys varsity team's season so far has been "rocky," according to varsity boys co-captain Michael Lu.
"The beginning of the season was pretty good, but as it went on, it was kind of inconsistent," Lu said. "There were some races where we did really well, but there were others where we didn't do as well. It's just been on and off."
Even with the ups-and-downs, the team overall, according to Lu, has a lot of potential, with athletes such as sophomore Takuto Doshiro and freshman Emilio Torres-Gonzales.
"We know that if everything comes together in this race, we can do really well. If we can get a personal record on a course we run all the time, then that's the best we can do,"  Lu said.
For Flatow, it's a shared goal.
"My goal is for every single athlete to have a personal best," Flatow said. "If everybody just does their best, then you really can't expect any more. And that's a great day no matter what the competition does."
The boys and girls varsity cross country teams will be racing at 12:20 p.m. and 12:55 p.m. respectively at the Crystal Springs course in Belmont on Nov. 12. Both teams will have to place in the top two in their division to qualify as a team for California State Finals. If the teams do not qualify, the top five individuals from both teams can qualify for states if they place in the top 12 overall.
Check back on elestoque.org on Nov. 13 for the results from their race, and on Nov. 16 for a full recap. For more information on the season so far, visit the MV Running website.
Correction Nov. 12: Senior Shivam Khanna was identified as being in the wrong grade level.