B-building bathroom construction completed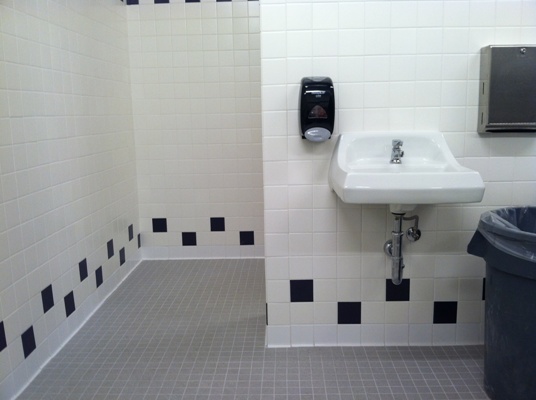 On Monday Nov. 14, students were finally able to walk down the downstairs B-building hallway that was previously blocked due to construction.
The newly renovated bottom B-building bathrooms were almost completed on Saturday, Nov. 12. However, according to facilities manager Chris Kenney, the bathrooms still lack hand-dryers and a final paint touch on the newly installed tiles that will be completed by the end of November.
These bottom B-building bathrooms had not been renovated since the late 1990's thus leading not only to MVHS administration's decision to renovate them, but also FUHSD administration.
"It was pretty bad," Kenney said. "There was a long hallway to get to the bathrooms, and then when you entered [the bathrooms] the old walls that separated the stalls were cracked up, and gross. But the students will be happy."
However, while Kenney felt that the students would be grateful about the new bathrooms, there were some mixed feelings. The construction of the bathrooms brought on difficulties for some students, particularly those nearby the area
."I haven't used the new bathrooms yet, but the whole process was quite annoying," senior Hemanth Kini said. "I would be in my physics class and would smell something horrendous, and the noise was irritating too."
Other students were not affected as much by the noise and construction but some doubted that these bathrooms would last and be useful for the student body.
"I think they're nice, but they'll probably become worse soon, also the faucets are not good because they stop too quickly," says junior Maya Reddy. "Another thing is that the mirrors are out of my way so I can't easily check my hair and stuff."
These new renovations however have been set in stone and will not be looked upon for another 10 to 15 years.