MVHS has seen it support the children of Hue, Vietnam by raising funds to buy playgrounds, creating murals and gardens. Now they are ready to expand to a bigger stage.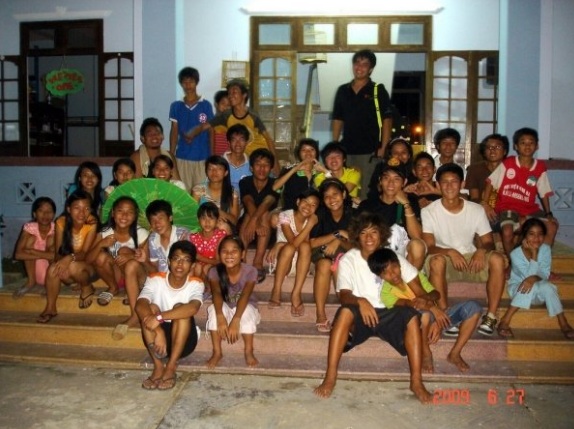 MVHS Friends of Hue Foundation, founded in 2009 by alumni Shunei Asao and Alan Do, then sophomores, was the product of a vision to help Hue's youth. Since then, MVFHF has traveled thrice to the Xuan Phu Shelter. There, they have built houses, gardens and sports facilities, painted the dining room and the kids' beds, and fixed the kitchen. From Cupertino, they have raised funds and made several donations of money and other items, such as toys. Their money has gone towards causes that include building playgrounds, securing medical supplies, and organizing field trips.
During their most recent trip in the summer of 2011, president senior Hikaru Asao said one of the volunteers asked why they were doing what they did. After all, she reasoned, "'they could have hired professionals.'"
"We realized that we were there to empower youth," Asao said. "In Vietnam, the kids' mindset was one of acceptance of their condition. Here in the U.S., we always dream big. We wanted to instill that mindset in children everywhere."
This reconsideration of goals brought about the International Youth Advancement Alliance and expanded the student-run alliance to two other high schools, Mountain View High School and Homestead High School. The decision to go international in their outreach was based largely upon the fact that their new message applied to everyone.
"Friends of Hue was mostly a donating and fundraising club," Asao said. We raised money and we  built and bought things, but it wasn't sustainable."
IYAA member junior Meghan Tran thought the transition was surprising, but was glad it happened.
"Even though I still have trouble calling the club IYAA because I'm so used to calling it FHF, I think the club's transition is really great," Tran said. "FHF was too focused on fundraising and not actually changing youth. IYAA, on the other hand, is more focused on empowering and bonding with youth all over the world."
The IYAA's modified mission is to inspire confidence in the children through creativity and teamwork, and to help them develop leadership skills in the process. This move will also make members current question reevaluated their reason to volunteer.
"This transition takes people deeper into community service," Asao said. "Hopefully they will come out with a better idea of why they are doing [volunteer work]."
The shift from FHF to IYAA poses its challenges, but Tran agrees with the reason behind it and is motivated to spread the new alliance's message.
"I've been a dedicated member since last year, and now that the club is really driven and has a goal, I want to be more involved in helping it reach that goal," Tran said. "I think other members will feel the same."