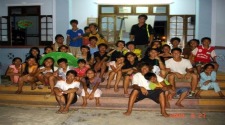 Smitha Gundavajhala

November 13, 2011
MVHS has seen it support the children of Hue, Vietnam by raising funds to buy playgrounds, creating murals and gardens. Now they are ready to expand to a bigger stage. MVHS Friends of Hue Foundation, founded in 2009 by alumni Shunei Asao and Alan Do, then sophomores, was the...
Yaamini Venkataraman

August 30, 2010
Members of Friends of Hue Foundation travel to Hue, Vietnam from June 11 to July 6 to rebuild parts of the city Read More &raquo...