Unstoppable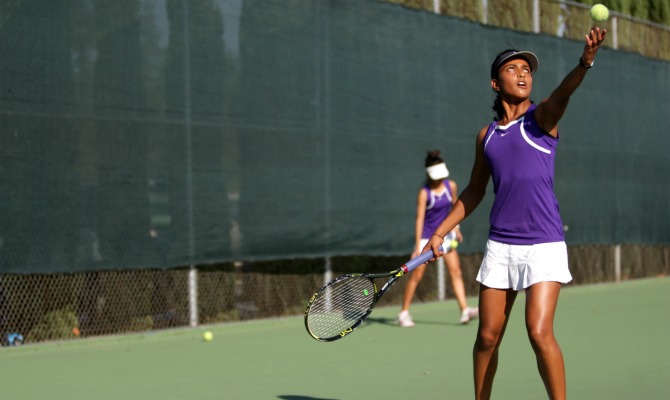 Two years in a row, Saratoga had given the varsity girls tennis team their only losses. Two years in a row, SHS took the CCS and the NorCal championships, leaving the Matadors in second. This year, it was the Matadors' turn.
Twenty-one wins, no losses.
This year, varsity girls tennis achieved only its third undefeated season in its history. So far, the Matadors had already beaten SHS twice. As each game went by, that dream of winning CCS came even closer.
The team
After disappointing losses to SHS all throughout last year, this was the year for the team to rebuild. The top two singles players of the team, Class of 2011 alumnae Sylvia Li and Vynnie Kong, graduated, leaving juniors Wendi Kong and Jody Law to step up in their place. Meanwhile, five new freshmen joined the varsity team as well.
"At the beginning of the season we were actually really worried," co-captain junior Ruri Kobayakawa said. "[The team] surprised us because the level of our entire team was actually quite constant versus other teams."
The number 3 and 4 singles, usually freshman, made the difference against the stronger teams in the season, when the top players were over-matched.
"Even though they're freshmen, they've played in a lot of USTA tournaments, so they're used to playing under pressure," Fortino said.
The doubles also underwent a major change. Bruce Becker, the varsity boys tennis coach, helped solidify the doubles teams by calling in practices. Kobayakawa and sophomore Kelsey Chong, already with postseason experience from last year, led the team in number one doubles consistently throughout the season.
"It's pretty nice to know as a singles player if our doubles are pretty much going to sweep," Law said. "It puts much less pressure on singles players because out of all four of our singles, only one of us has to win."
Early success
The season began with a bang, winning their first game with a 5-2 win over Burlingame and then a 6-1 win right after that. Just the start to a season for many successes.
The California High School Tennis Classic in Fresno marked their first big challenge of the season, drawing the top teams in the state. The team going there was not only different, but their whole mindset was completely different from previous years.
"Last year, we didn't have much of a team," Kobayakawa said. "We weren't very bonded and this was especially seen when we went to Fresno. This year we all went to someone's room, we all hung out, we talked, we listened to music. Last year everyone went to their rooms and did homework. This year we had a rule: they were not allowed to do homework."
Win after win followed the tournament and the team started to look like nothing could bring them down. The team was entering a rhythm that was hard for any of their opponents to break.
"We first did not expect [to go undefeated]," Kobayakawa said. "After we went to Fresno for the California Classic, being able to win that, we started getting more confident."
Big match-ups
Then came one of the toughest parts of the season during the last weeks of September — Mitty, Menlo, and SHS — the Matadors biggest rivals all within one week of each other. The Matadors would also have to play Menlo High School and SHS back-to-back.
Menlo and Mitty were both tough matches for the Matadors, but the team was able to come out victorious 6-1, 4-3 respectively. Both teams were also out of league, so the importance of the match was not as big as the SHS match.
MVHS and SHS had their first match of the season on Sept. 29. This was a key game just as the Matadors momentum kept them winning every game so far.
The Matadors fell to a quick 3-0 deficit against Saratoga, after Kong and Law had trouble keeping up with the powerful top two of Saratoga. Although it seemed bad for the Matadors, the rest of the games were in good condition, all leading in their respective matches.The next four games were all MVHS. Again it was the doubles and the number 3 and 4 singles that gave the team the necessary wins to clinch the game.
"What I noticed is that after you finish your match, if it's a really tight match, you have to put aside your wins or your losses and just go and cheer for your teammates," sophomore Shwetha Bharadwaj said.
Final stretch
The Matadors made quick work of Mountain View, their last opponent, and with that they had an undefeated season.
"It was good to end on a positive note," Fortino said. "After a big match like Saratoga, you always have a tendency for that big letdown, and the girls really really played well, and now we're getting ready for CCS. We'll see but it's going to be a real challenge."
A team that lost a lot of its star talent last year was able to show everyone that they were still a dominating force. Law, Kobayakawa, and Kong — the captains — all stepped up to rally the inexperienced but talented young team to an undefeated season. Kobayakawa however claims that the reason they did so well was not cause of them, but the players themselves.
"I just have to say 'I am glad to be captain of such a spirited team, who tries so hard and tries at their fullest capability just to win,'" Kobayakawa said.
And with that spirit and hard work, the only thing the team did was win.  21-0. No other team can say they hold that record other than them.
"Anything can happen," Fortino said. "Even though we're undefeated right now, playoffs are going to be awfully close — any given day."