Letters of recommendation increase workload for teachers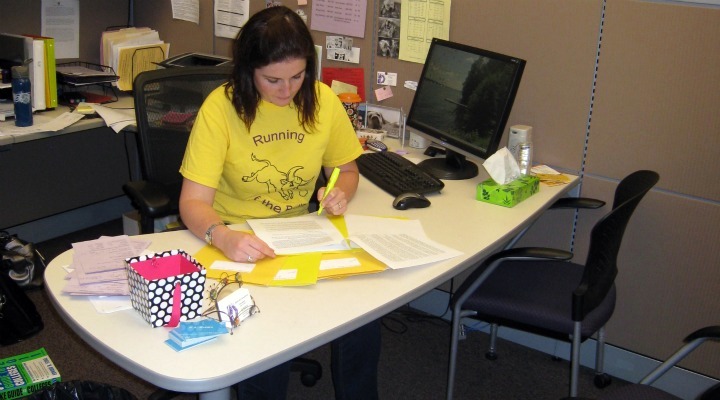 Some teachers must complete 30 to 60 letters of recommendation every year. But who has it more difficult for: the teacher or the student?
Students who push to apply early to the universities of their choice must complete their essays and resumes before the beginning of November. Though students choose this option to decrease the amount of time spent on submitting multiple applications at once, some fo not realize the pressure that is also put on teachers when it comes to applying early. Teachers must meet deadlines in writing letters, which continue to get closer over the years due to the increase in the number of students applying early. Writing letters of recommendation is something extra that teachers do for students, and AP Chemistry teacher Kavita Gupta calls it a privilege, not a right.
"Although we want to support them [students] in their next journey, they need to respect teachers' timelines and their personal lives," Gupta said.
According to guidance counselor Kate Duphily, applying early is very popular for students, especially this year. Though there is no exact reason for this trend, Duphily credits a part of the increase in early applications to the fact that many students applying to the University of Southern California and are aware of the early deadline, Dec. 1, for receiving automatic consideration for financial aid.
Early decision and early action are both advanced programs in which students must complete their applications in November. According to College Board's website, the difference between the two is that early decision increases a student's chance of acceptance, but the applicant is committed to the school if they are accepted. Early action does not hold such binding conditions.
According to Duphily, most colleges require at least one letter of recommendation from an academic teacher.
"I get about 30 to 50 letters every year," English teacher Mikki McMillion said. "It depends on the number of juniors I have."
However, in addition to colleges, some summer internships also require letters of recommendation, leading to a minimum of 75 letters per year for teachers like Gupta.
"I have a lot of mixed feelings when doing letters of rec," Gupta said. "There's a sense of pride that many of my students are so driven and want to pursue college, but I feel very torn because it does take a lot of time and effort to write each letter. I don't want to do one just to have it done. I want to do it justice."
Like Gupta, some teachers must first gather information about the student and come up with a mental outline before they even pick up a pen to write.
"Getting all the data takes the most time to synthesize," Gupta said. "The actual writing part for me takes about an hour or an hour and a half, without all the preparation."
Some teachers can barely handle the workload of letter writing in addition to the daily requirements of their job. To alleviate the workload, some have adopted a cap on the number of letters they write per year.
Pre-calculus Honors and geometry teacher Joe Kim writes about 60 summer internship letters of recommendation per year, but strictly limits the number of college letters he writes to 25.
"I want to commit to the students who ask me [for letters]," Kim said. "If I say yes to everybody, which I have done in the past, the quality of the letter is diluted because I have less time to spend on it. I don't want to do quantity, I want to do quality."
But other teachers feel differently about capping the number of letters they write.
"The reason that I don't cap is if a student generally needs a letter of [recommendation] from me and I can recommend them very well, I have a hard time telling them I can't write one," McMillion said. "I know they need it for a good reason, but I just can't say no to the students."
In May, senior Megan Parry asked her former American Literature Honors teacher Mikki McMillion as well as her sophomore and junior social sciences teacher Bonnie Belshe, if they were willing to write her a letter of recommendation. However, she knew that a lot of her peers had asked the same teachers for the same thing and because of this, she gave them all her material early back in September.
"I feel bad for them," Parry said. "It must be a big pain for teachers. Practically my whole [American Literature] Honors class from last year asked McMillion for a letter of [recommendation ]."
Duphily believes that it is harder for the teachers, even though they are expecting the same thing every fall.
"I think it's harder for the teacher time-wise because they have to find a way to make it work with all the other things they have to do," Duphily said. "But the part that's difficult for students is getting organized and having everything in a nice, orderly format to give to teachers on time, which is one of the bigger hiccups."
But Kim believes that we cannot compare teachers and students' workloads because they are apples to oranges.
"There is a lot of stress on the student to write their essay and complete their application, but they are doing it for themselves and I have to do it for 25 students."
However, regardless of the workload, the most teachers agree that the most important part of the letter should reflect and humanize the student in a way that grades and scores cannot.
"The most important part of the letter, for me, that is, is to set the student apart from the others without it seeming like a cookie-cutter letter, "Gupta said. "The question is how to personalize that letter so when colleges look at a student, they look at them in the best light."