Football: Matadors defeat Vikings 27-3 in rivalry game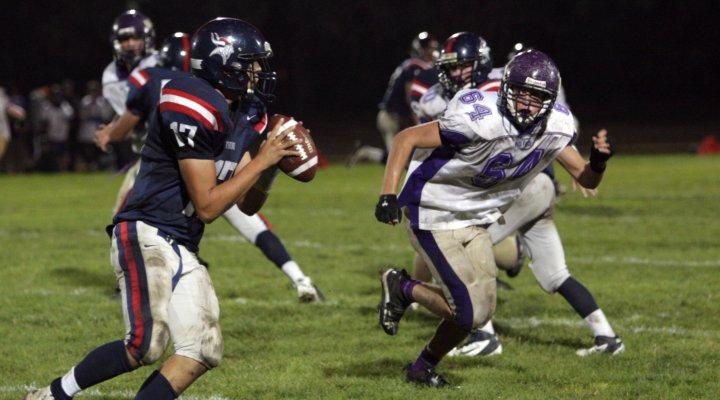 The varsity football team defeated Lynbrook High School on Oct. 7 for the rivalry game at King's Academy High School. After a tough loss against Los Gatos High School on Sept. 24, the Matadors had time to recover over the bye week before preparing to cruise through the rest of their season, beginning with a 27-3 victory against the Vikings.
The Vikings began with major errors in their defense, allowing a touchdown by senior quarterback Austin Burrow, who rushed into the end zone easily to put the Matadors up 7-0 with five minutes left in the first quarter. Burrow's previous ankle injury didn't seem to affect him as he performed exceptionally throughout the game.
"We didn't do as well as we wanted to do in the first half, which made us work harder during the second half," Burrow said.
Despite an uneventful second quarter, due to numerous turnovers and a close battle between the two teams, the Matadors took control of the second half.
Senior running back Sam McCann, who gained numerous yards, was able to run through and score a touchdown, giving the Matadors a solid two touchdown lead, 14-0.  However, due to a lapse in Matador defense, the Vikings were able to progress down the field – enough to score a field goal to retaliate.
The Matador offense continued into the fourth quarter, shutting out any chance of Lynbrook victory.  Senior Jordan Sheade found an open route down to the end zone, took advantage of it and scored a touchdown. Soon after the kickoff, senior Thomas Jennings intercepted a pass from senior LHS quarterback Austin Brady, which boosted the momentum for the Matadors.
With less than three minutes left in the quarter, Burrows scored yet another touchdown for a final score of 27-3.
The Matadors next home game will be against the Harker School on Oct. 14, Homecoming weekend.