B building bathroom business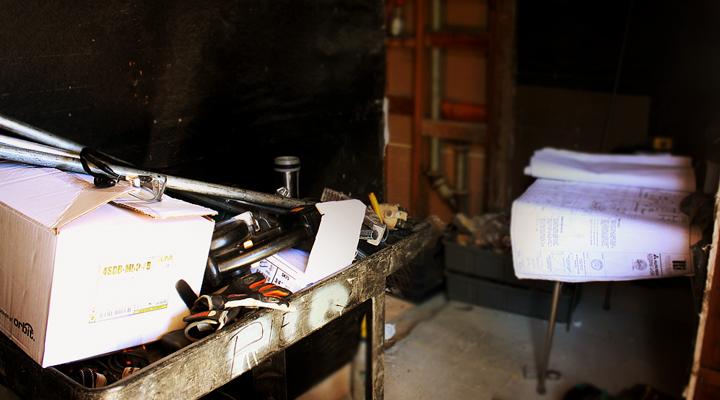 Angela Liu
September 27, 2011
It's just another day in Physics, and Science teacher Jeffrey Trevarthen is handing out chapter three tests to students. Suddenly, loud hammering, drilling and a variety of other sounds disrupts the class. Room B105 is right next door to the B building bathroom reconstruction site, and such interruptions happen without warning.Trevarthen finds the noises to be very distracting. He recalls hearing hammering, nailing, jackhammering and shouting going on during class. At one point, the disruption caused by a chainsaw was so intense that he was forced to pause a video and wait for the noise to stop.
However, junior Sumana Pidaparthi, who has a class in B105 during third period, believes that despite the disruptive noises, the construction will bring a positive change.
"I avoided that bathroom anyway because it was so nasty. The floor was always wet. I'm happy they're remaking it," Pidaparthi said.
English teacher Vanessa Otto, who teaches upstairs in B205, also hears commotion coming from the area.
"Reading in class is tough because the noises disrupt my students' focus, making it harder to retain information," Otto said. "At first we thought it was a very loud cell phone vibrating, and the students would look at the door whenever there was a noise. But I think we're used to it now!"
Administration has called the construction companies to ask them to minimize the noise and to keep them updated on what tools will be used in the future, but often, notice isn't given ahead of time, as was the case when jackhammers were used.
MVHS Facilities manager Chris Kenney explained that the start of the bathroom reconstruction was delayed from June to August because the Department of State Architect, which oversees building projects at K-12 schools, suggested that the addition of handicap parking spots to the student parking lot take priority over the renovation of the bathrooms. Work on the bathroom was forced to start after the parking lot was completed. Along with the student bathrooms, the staff bathrooms in the B building are simultaneously being worked on as well. According to Kenney, most of the demolition is done and the noise will not nearly be as intense. Both projects are funded by the Measure B parcel tax, and are projected to be finished in October.
"The staff bathroom looked like a dungeon before," Kenney said. "And the B building bathroom hasn't been updated since 1969. After the construction, we'll all appreciate the change."