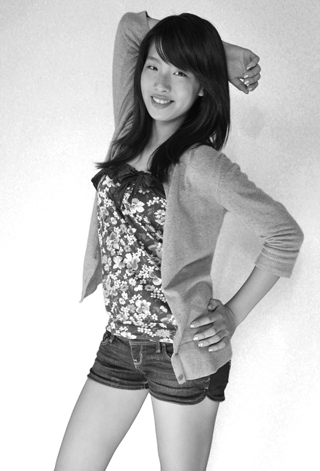 Touring San Francisco in French designer duds, laughing with friends along the way—while this may seem like a scene from a typical day in the good life, a closer look reveals what something not so normal about the picture. Take a hint from the cameras following the smiling teenagers. This is not a pleasure trip, but another day on the job.
Freshman Miki Rai has been working in the entertainment industry since 2007. At the age of 10, she signed with Models Inc. Talent Agency in San Francisco. Accomplishments on her resume range from photo shoots and television commercials to musical performances at Disney World.
Yet her leap to join the business was not calculated, or even expected. It all began when her mom signed her up for a radio show speaking class. At the time, the class was just another extracurricular endeavor for Rai—until it led to an audition for a talent company.
"Before I walked in the room [to audition], I could feel my heart pounding like it was going to fall out," Rai said. "I [thought], 'Why do I even have to do this? I'm not even going to get picked … there's so many people.'"
But Rai did get picked, and Models Inc. founder Sherrie Garcia set her up with her first job, a television commercial, shortly after. This first job turned out to be a memorable one.
"After a few days of the shoot, I got like really sick. I woke up at like 3 a.m. in the morning and started throwing up," Rai said. "My parents [told me to] stay home and rest, but I didn't want to disappoint the crew … I sucked it up and went."
As Rai acclimated to her work, she kept rolling with the punches. As Garcia explained, bumps are inherent in the entertainment industry.
According to Garcia, clients already have a vision in mind when conducting auditions. Their goal is to find the best fit for each project. This aspect of the audition process can be helpful. Being Asian-American and fluent in Chinese has certainly helped Rai land jobs, given the limited number of models who fit such criteria.
On the other hand, this method of selection inevitably leads to rejection. According to Garcia, succeeding in the business takes more than an outgoing personality and attractive image; high self-esteem is key. In Garcia's observation, Rai has continuously displayed such  professionalism.
"You learn that if people want you, they want you. And if they don't want you, they're just not going to use you," Rai said. "I'm not one of those super sensitive people who thinks about all that."
For the most part, Rai maintains her casually optimistic perspective. But even she is susceptible to disappointment. When she traveled to San Francisco three times for auditions and callbacks for a  Google Chrome commercial, it was crushing to ultimately get the phone call saying, "You were released."
Throughout it all, she draws support from her parents. Her father Yasuyuki Rai believes that her experiences serves as steps to maturity.
"We don't know if she'll be an actor, singer, anything else related to the entertainment industry," Yasuyuki said. "But we do know that whatever she does … all this time she's put in is going to help her actually become a successful person in any career that she wants to choose."
Click here for a related video.


This work is licensed under a Creative Commons Attribution 3.0 Unported License.