Above and Beyond: A Balancing Act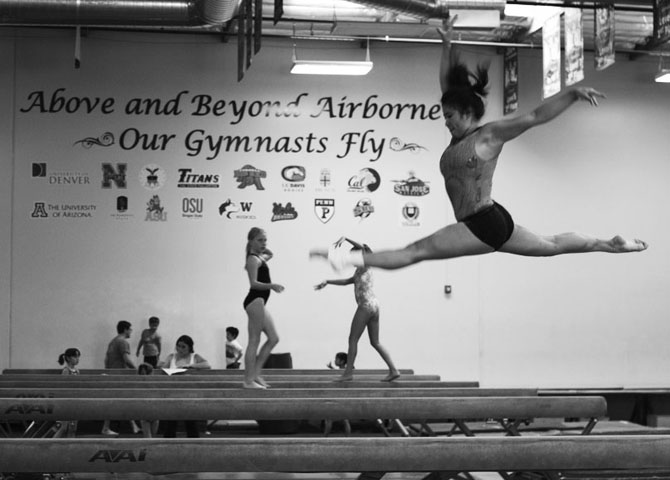 You know that you are in love with a sport when you dislocate a rib and a toe, break your heel and shin bone, compete three seasons with the broken bones and continue with your back broken in four places. Senior Melissa Chuang knows one thing—she is definitely in love with gymnastics.
When Chuang was eight years old, she found herself caught in a dilemma uncommon for her age. She had to choose one out of the five sports that she was already involved in at the young age: ice skating, karate, swimming, soccer or gymnastics. After deliberation between soccer and gymnastics, Melissa made a pivotal decision to stick with gym—a choice in which the reward was far greater than she had imagined.
On July 22, Chuang received an acceptance letter from Stanford University, guaranteeing her admission and three years of paid tuition. After her tours and unofficial meeting with Stanford coaches  during the spring, she applied earlier in June through the Early Athletics Admissions program.
"It's one of those lifelong dreams where you don't think you would ever achieve it," Chuang said. "I've always wanted to go to Stanford, but in high school when you realize how hard it is, you kind of give up on it."
In her junior year, Chuang was also scouted by other colleges.
University of California at Berkley and Davis both offered her full rides, while Yale and the University of Pennsylvania offered partial scholarships. In the end, Chuang chose the Cardinal for its excellence in both academics and athletics. In fall of 2012, Chuang will be joining the Stanford gymnastics team in 20 hours of practice a week and NCAA competitions.
Despite her ability in gymnastics, Chuang denies the claim that she got into Stanford solely because of her competence in gymnastics.
"A lot of people always say, 'Oh, you can fail that test because you still have gym,'" Chuang said. "But it's not like that. I wouldnít have gotten into Stanford on gym alone."
Chuang has trained at two gymnastics centers, West Valley and Airborne, both of which maintain a culture of assuring hard work in the gym and at school. On top of the 25 hours a week of gym practice, Chuang still had to give her full effort in school. Of course, gymnastics helped, but it would have meant nothing if Chuang did not also take her share of AP and Honors courses at MVHS.
"The balance, the time management and the work ethic of all the girls in our gym really portray who they are," gymnastics coach Alan Ruggerio said. "And they have obstacles every day, whether it be from the intense, rigorous training that their bodies go through or their mental stress that they go through trying to have their academic grades be above and beyond. It's not something that we require here, but it is something that is always portrayed in our gymnasts here."
Previous students from Chuangís current gym, Airborne, have received scholarships to the University of Denver, UCLA, UC Berkeley, University of Pennsylvania, Brown, Southern Utah University, Cornell and Yale not based on their ability in gym alone, but on their academic achievements as well. Looking at the full length of one side of the gym, one can see the Airborne motto: "Above and beyond Airborne, our gymnasts fly," with the insignias of various colleges that previous gymnasts were accepted to.
Chuang had never planned on using gymnastics as a step toward college. She saw it as not only a hobby, but a distinct part of her personality. The sport has changed her to become dedicated and strong, and to face pain with endurance.
"Without it, I don't think I would have much motivation,"Chuang said, "and I would probably be a complete wuss."
Right after Chuang broke her heel prior to freshmen year, she took a month-long break from gymnastics and contemplated the idea of quitting gymnastics. However, Chuang realized that she had to stick with her routine of gym because it simply too big a part of herself to let go.
"I tried other sports, like track and swimming, but everything was just so boring," Chuang said. "It just felt like something was missing."
In college, Chuang will matriculate as a pre-medical major, a prestigious program that further enticed Chuang to stick with Stanford. She does not plan on going anywhere with gymnastics after college, but really used her skill in gymnastics as a stepping stone for a greater education. Further down the road, Chuang hopes to become a doctor or a sports physician.
"I always knew I wanted to be in the medical field," Chuang said, "and after all the injuries, after I saw my sports [trainer] and my injuries and pains, I began to understand what was happening with my body, so I started to pursue sports medicine because I was so familiar with it."
With this set aspiration always in mind, Chuang continues to devote her attention to education and hard work at school while still pursuing gymnastics as a hobby.
"So no matter what sheís come to face, whether it's injuries, pressures from schoolwork, pressures from parents, she's always, always conquered above all," Ruggerio said. "And thatís why sheís going to be a Stanford gymnast."

Above and Beyond: A Balancing Act by Jacob Lui and Albert Qiu is licensed under a Creative Commons Attribution-NoDerivs 3.0 United States License.