Food: Bar Code Cafe attempts to raise the bar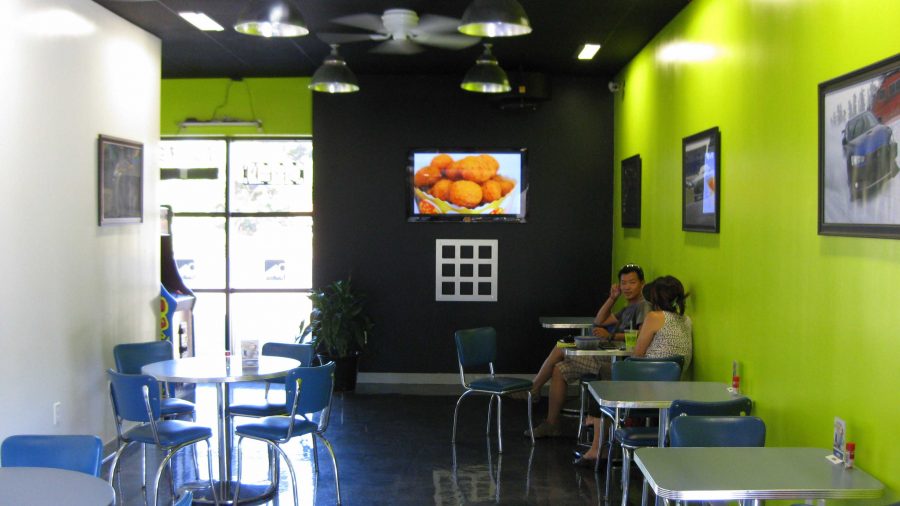 Yimeng Han
September 20, 2011
Ironically, Bar Code Cafe's business card doesn't even have a bar code printed on it. Instead, a QR code is prominently displayed- a clever touch that embodies the cafe's aspirations for trendiness.
When you first walk through the door, your eyes receive a jolt of stimulation from the modern interior. The black and lime green color scheme, in addition to the framed photos of Japanese automobiles, create a cheerful and unique atmosphere. A quick scan also reveals the edgy contrast between a vintage arcade machine and a flat-panel television playing pop music videos.
Owner Moon Chien describes his business as a "leisure cafe". And despite the fast-paced pop music playing in the background, his description is dead-on. Unlike local competitor Quickly, whose very name implies a sense of hastiness, Bar Code is strangely serene. Of course, that could be attributed to the scarcity of customers during the two hours I was there.
Despite its cafe status, the coffee selection is rather limited. Only one blend is offered, although you can add extras like grass jelly and mango pudding (for an additional $.35 to $.65). Luckily, the coffee is excellent — the imported Italian beans they use produce a dark, smooth latte without any harsh or acidic tones. For those with a sweet tooth, a squirt from a bottle labeled "sugar water" should do the trick.
The menu's emphasis is clearly on tea, which is available "natural" or with milk. The taro milk tea is infused with a delicate hint of the popular Asian tuber. Unfortunately, the copious amounts of ice quickly watered down its taste. For tea lovers, the stronger black milk tea is far more satisfying.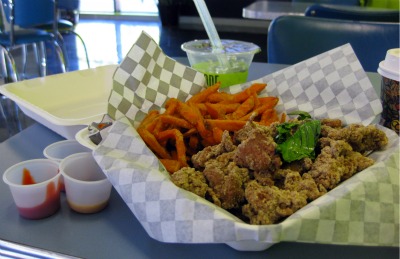 Bar Code's bestseller is its combo meal, which is fairly priced at $9.25. For your money, you get a tea and generous amount of sweet potato fries and chicken bites. The fries, which tasted like they were left under a heat lamp, were disappointing. The chicken bites, on the other hand, tasted very fresh and was perfectly seasoned. A trio of sauces (ketchup, curry ketchup and honey mustard) available on the condiment island is a fun way to try out new flavors.
Other noteworthy items include the freshly prepared ramen and gyoza. A large dessert case also sits next to the counter, although the variety is slim at the moment. According to the cafe's Facebook page, a better-stocked bakery will soon be implemented.
In the end, visiting the Bar Code Cafe is an ambivalent proposition — it offers upscale ambiance and service, but the food is pricey for students on a budget. However, Chien said wanted to created a cafe that is "something different for the community", and in that respect, he definitely succeeded.
Bar Code Cafe is located on 10619 South De Anza Boulevard. Operating hours are Monday to Sunday, 11:00 am to 10:00 pm. Visit Bar Code's Facebook page at facebook.com/BarCodeUsa.