Juniors volunteer to coach basketball part-time at YMCA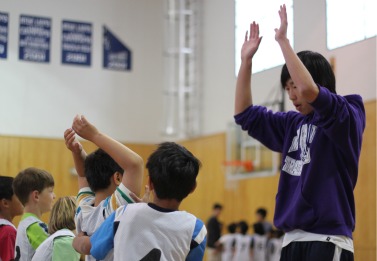 Fathi, Liu, and Zheng discuss the importance of being more than just a coach in youth sports



One point in every athlete's life, they have listened to the advice their basketball coach gave them. Some use that advice to improve their skill in the sport, while some spread the same advice to other kids.
Several students do exactly that by coaching for the YMCA; some as much as four years of experience, while others are just beginning. Yet the love of teaching kids to play sports brought all of them to become student coaches.
Each of the student coaches begin their career by signing up with YMCA director Scott Leong to become a coach of the Northwest YMCA league. Soon after, each coach is assigned his or her team for the season.
"What we do is we usually get a team of 10 kids and we teach them basic basketball skills," junior Darian Fathi said. "We teach them sportsmanship, we teach them teamwork, and then we go and play a non competitive game against another team on Saturday."
Each them practices once a week, with a game on Saturdays, usually at Kennedy Middle School or Hyde Middle School, all of which occurs within two months.
During those two months, the student YMCA coaches do teach through their own methods, but a common theme that runs between all student coaches is their use of previous sports lessons into their coaching methods. Fathi uses lessons from his previous coaches to gain good ideas for coaching, even though the experience is still fairly new to him.
However, the main focus throughout their time coaching is to see progress. For some cases, it is the little things that gives the greatest awards to the YMCA coaches. The coaches guide their kids from the first step of learning to shoot the ball to the more advanced techniques on the intricacies of man-to-man defense.
"The first game you are like, 'Oh my god we're so bad'," junior Bernie Liu said. "But at the last game we are like, 'Dang we are pretty good because they improve a lot within the two months,"
Coaching for the students is not just about teaching kids the basic skills of basketball. They also begin to build connections with their players through all the practices and games they endure within the two months.
"Each kid is almost like a younger brother or sister, " Liu said, "because when you coach a lot of seasons, you kind of see the same players over and over again. You get to know them really well and their parents, too."
Coaches have the experience to meet new kids, build connections with their players and teach the sport they love, but not everything is perfect. In their time teaching kids, every coach faces his or her share of adversity, whether it is trying to help out the kid who does not want to work or sometimes a meddling parent.
"Some parents can be really nosy about what you are doing, then you [say], 'Oh, if you want to know, just talk to our director,'" junior Clayton Zheng said. "You can't answer all their questions because it will take too much time out of practice."
The students come into YMCA with the expectations that they will be just coaching kids, but what they find is much more than that. Either by dealing with the parents or building connections with their kid, YMCA coaching gives them much more than expected.