Badminton: Matadors take down the Falcons despite key losses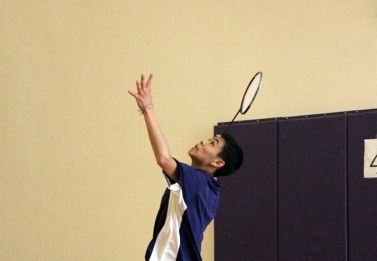 Undefeated season continues for varsity


Usually, when a team's top player is defeated, a loss is in the works. But despite suffering such a let-down, the Matadors masterfully pulled through and coasted to victory.
On May 5, varsity badminton took on Saratoga High School in a highly anticipated match-up between the two rival programs.
The signature match of the day was in boys varsity singles, when MVHS senior Gary Wang took on SHS junior Jeff Kuo. Easily the most talented and experienced players from the two teams, Kuo and Wang drew a crowd of spectators from both schools who came to watch a competitive game. Early on, they got what they came for.
In the first set, Kuo jumped out to an early 4-0 lead over Wang with sensational smashes that left Wang scrambling for answers. However, the MVHS senior bounced back by using clever maneuvers to limit Kuo's opportunities, going on a 7-3 run to tie the score at seven apiece. However, Kuo's quick shots propelled him to an 11-7 lead and ultimately the set at a score of 15-9.
Wang attempted to deflect the the SHS junior's smashes in the second set, with limited success. Again, Kuo was able to power his way to victory, decisively ending the match in two sets with a 15-5 second-set finish.
"There are parts of my game that I need to work on," Wang said after the game. "[But] I couldn't even see [Kuo's] smashes."
Despite Kuo's dominance, varsity girls went undefeated in a total of six matches with easy wins over their SHS opponents as freshman Stephanie Lam and sophomore Erika Sporkert led the varsity girls singles.
"Our girls have been really strong this year," captain senior Brandon Tran said. "They usually sweep [their categories] and they got us through some of our losses [today]."
Still, some team members feel that there is room for improvement. Senior Robert Lee and junior Howard Yang lost their varsity boys doubles match, and both felt dissatisfied with their collective performance.
"[Our opponent] played really well in the first set," Lee said. "But we made a lot of mistakes, like hitting into the net and out [of bounds]. Just not a good game for us."
The final score of the match between the Falcons and the Matadors came out to be 21-9, in favor of MVHS. This win gives varsity badminton an 11-0 undefeated record with one last home game of the regular season against Milpitas on May 12.
Players like Lee will have time to improve their game before CCS begins on May 24 at MVHS.