Food: Famous falafels disappoint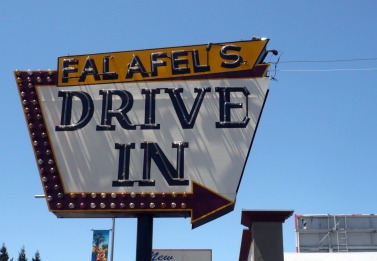 Popular Middle Eastern joint proves to be overrated


Anyone who watches the Food Network show "Diners, Drive-ins and Dives" will understand why Guy Fieri visited Falafel's Drive In as soon as they see the place. It's not gussied up with fancy architecture or tablecloths, but seems perfectly suitable for normal middle-class Americans looking for some good grub.
Except there's no good grub to be found.
Falafel's Drive In, regardless of its food, is a highly successful establishment and has its share of fans. Located just half a mile from the Westfield Valley Fair Shopping Mall, it is easily visible to hungry shoppers looking for a bite to eat, thanks to its 1950's-style marquee. For those who wish to eat there, about a dozen tables are scattered around the counter, and they fill up fast. So does the parking lot, if it can be called that—Falafel's Drive In has very little parking space for a drive-in. A line curves around half of the shack on a typical Saturday, though the quick service makes the wait bearable.


The menu includes standard Middle Eastern items such as falafels, gyros, and hummus. At $4.25, the small Falafel Sandwich is the most inexpensive entree, no doubt due to its size. Packed into a half-pita are falafel balls, tomatoes, and lettuce topped with hot sauce and tahini. The first bite is the best—an explosion of chickpea merging with the fire of the hot sauce to awaken the taste buds. Further into the sandwich, however, the problems come to light—the falafel lacks the powerful flavor of the legumes and seems to make a point with excessive salt instead. The hot sauce tastes more like spicy ketchup than the piquancy of chilies that falafel places are popular for—a definite turnoff.

Overall, it isn't terrible, but it's definitely not worth its price. The same goes for the Falafel Salad, a plate of vegetables with falafel balls with no pita bread, priced at the enormous amount of $7.25. It is a mystery why the salad costs more when a large Falafel Sandwich is the exact same thing, except with pita bread. To be sure, there is great variety on the menu, with all-American favorites such as hamburgers and corn dogs as well as gyros and tabbouleh. But when it comes to food, doesn't quality beat quantity?
For enthusiasts of Middle Eastern cuisine who are not looking for anything fancy, House of Falafel in Cupertino may be a better choice—the prices are of similar range, but the food at House of Falafel has more depth and power.
Verdict: Not one of Fieri's wiser choices.
Falafel's Drive In is located on 2301 Stevens Creek Blvd. San Jose, CA 95128. Phone: (408)-294-7886. Open from 10:00 a.m. to 8:00 p.m. (Mon.-Sat.), 10:00 a.m. to 6:00 p.m. (Sun.).