Safari themed Freshman Fling to be held April 8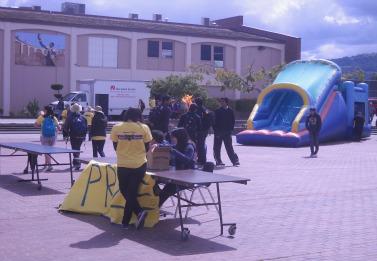 Class of 2014 only event allows for bonding with class and Link Leaders
Link Commission's third annual Freshman Fling will take place on April 8 from 3:30 to 6 p.m in the Rally Court, Gym, and Student Center.
Keeping with this year's safari theme, Link Leaders will be wearing safari hats, and students will enjoy safari themed games and food in a "Jungle Cafe."
Link Commission will provide inflatables and host games like dodgeball and a dunk tank will be present. Students can redeem the tickets they earn during games for prizes including trinkets, stuffed animals, AMC movie tickets, make-up sets, and Coldstone Creamery gift cards.
"[The freshmen] get to just hang out with the rest of [their] class and [they] won't get lost in all the other classes," Link Commissioner senior Anisha Banda said.
Still, there's a strong emphasis on bonding between students and their Link Leaders—"family" photos of Link groups can be taken.
Unlimited food, including tacos, ice cream sundaes, hot chocolate, and cinnamon rolls will be provided, and the Class of 2014 will be selling donuts as a fundraiser.
Tickets will be sold for $5 in the Rally Court at lunch and are $6 at the door.
{cc-by-nc-sa}