Badminton beats rival Lynbrook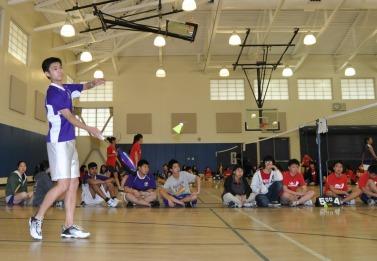 Senior Gary Wang and sophomore Erika Sporkert won their matches
After defeating Milpitas High School for their first league game, the badminton team won a similar victory against rival Lynbrook High School on March 24.
Varsity one boys single: Senior Gary Wang beats Chris Kang 15-5, 15-6
Wang played a solid game against Viking opponent, managing to maintain the lead for the entirety of the game with his quick blocks and powerful smashes.
Wang started off strong with a lead of 4-0 with net-skimming serves, but Kang soon retaliated to tighten the game 4-5 —the closest the score would ever be for the remainder of the game. Wang, after a long drive that put him up 6-4, was able to force Kang to run about the court throughout the match. His driving and pushing the birdie backcourt led him to win the game with ease 15-5.
"I think I didn't use what I learned in practice, which was after I get my opponent out of position, I should follow up with the shot, and I also hit some shots out," Wang said.
Although the second game didn't quite start out like the first, as he found himself down 0-2, Wang picked up his rhythm and played aggressively to steal the lead. He scored 12 consecutive points by smashing and dropping the birdie beyond the reach of Kang. Nicely executed shots and accurate predictions for Kang's shots led to Wang's victory 15-6.
"At least i was able to finish the game mentally, but I have lots of techniques to work on," Wang said.
Varsity two girls single: Sophomore Erika Sporkert beats Kailin Hu 15-8, 15-8
With good judgement calls at the line paired with smashes from far back in the court, Sporkert played a strong match. After allowing Hu to score two points in the beginning of the game, she responded alternately with clears and drops to take the lead 12-2 and soon finished the game 15-8.
Sporkert managed to dominate the second game as well and found herself up 12-4. She allowed Ho to catch up 14-8 with personal errors, but after hitting a smash, Hu was unable to return the birdie inside the court. Sporkert won the second game 15-8.
"When [Hu] hit the ball, I wasn't always ready to return. [To prepare for the next game], I will run more, practice more, and work on my footwork," Sporkert said.
MVHS will play Los Altos High School next on March 29 at MVHS.
Correction: April 2, 2011
An earlier version of this story stated that Sporkert's opponent was Kailin Ho. Her name is actually Kailin Hu.