Dance Showcase the 'Time of our Lives'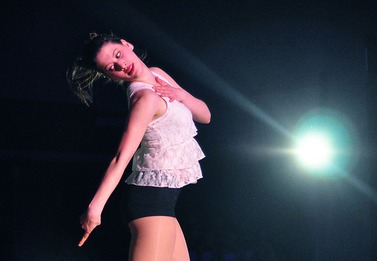 Six dance classes, Dance Team, Spirit, and Song Teams performed a total of twenty dances on March 4



Any person looking for kicks, spins, cheer or dance found what they were looking for at Friday night's Dance Showcase.
On March 4 at 7:30 p.m., the students of Dance classes took to the gym floor as they performed in the 13th annual Dance Showcase titled "Time of our Lives…" in front of a packed audience. Not only did six periods of Dance entertain in the "Time of our Lives" themed event, but they were accompanied by performances from the Spirit squads and the Dance Team.
The showcase began with some technical difficulties, but still went smoothly and was packed with twenty dance performances ranging from class dance routines to solo's performed by the dance team—all in a hour long show. Each of the dance periods performed similar dances, showing off their dance moves in four rows, but each class varied their choreography, with everything from dancing like robots to pirouetting.
The showcase provided a great variety of upbeat dances, coupled with the more serious dances performed, such as Dance Team's lyrical piece and the solos. The Dance Team and Spirit Squads added their own performances, including the "Dog Days Are Over" performed at the Winter Rally and a high energy Song team performance. When one performance was over, the lights were turned off and the dancers seamlessly transitioned to the next performance.
The last performance called "We had the Time of Our Lives" was performed by the Dance teacher assistants themselves. For the last part of the dance, every performer stood up and danced to "The Time" by the Black Eyed Peas.
When all the dancing was done, another technical difficulty arose as the DVD to end the show did not work. However, it did not affect the flow of the show as Mrs. Graham gave thanks to the people involved with the Dance Showcase. The coaches, the teacher assistants and many others were given gifts of appreciation by Graham. The teacher assistants then surprised Graham by giving her flowers and gifts of her own to thank her for her teaching.
By the time the gifts were handed out the DVD was ready to be watched.The Dance Showcase was another successful show that lived up to its name by showing the crowd why this is the time of our lives.