Alumni return to the basketball court for annual alumni game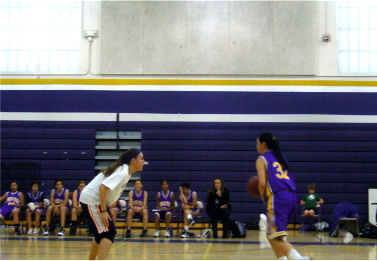 Graduated girls basketball athletes play against the current varsity team



It's not often when athletes on opposing teams foul each other and laugh it off. Especially when the referee is smiling too.
On Nov. 27 the alumnae returned to the MVHS gym basketball court for the first time since February of this year, and for some, since over five years. The varsity players defeated the alumnae 39-29 in a tense game with more fouls—and laughter—than usual.
"This game was really rough. We're still a really new team and still are getting a feel of how we play with each other," varsity point guard junior Steffanie Sum said. "It was different playing against [alumni]…defending them rather than helping them."
Class of 2009 alumna Victoria Lee, currently a freshman at UC Davis, said that she knew most of the players on the current team and alumni team, contributing to a more friendly atmosphere.

For Lee, though, the experience was more than playful—it was nostalgic.
"It's always good to come back. [Head coach Sara] Borelli is like a second mom to us and my best friends are on the team," Lee said. "It brings back good memories".
Even the referees change their approach to officiating the game as they know most of the players by first name.
"We don't want to take away from the fun, so we try to keep a flow to the game without them hurting each other," referee Brian Sullivan said. "The [varsity] girls still have to play a season".
Alumni games are an annual tradition for the MVHS basketball program (for both varsity teams), held every year before the incoming season. The Lady Matadors will open their season with their first home game against Evergreen High School on Dec. 7 at 7:00 p.m.