Soccer player tries to overcome obstacle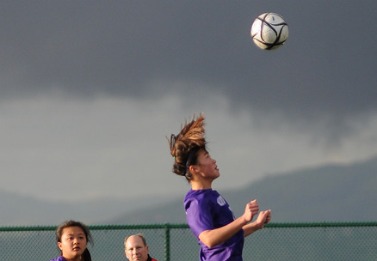 As junior Gabby Ley struggles through her injury on the Powderpuff field and the surgery, her sister's life is also altered


As the colorful classes belted their hearts out on the noisy stands during the Homecoming Powderpuff games with smiles and shouts of sheer joy, one of the player's lives took on a serious change.
During the juniors vs. sophomores Powderpuff game, junior Gabriella (inform
ally called Gabby) Ley was defending at one moment and escorted away from the field in a wheel chair in the next.. The accident caused a hyper-extension and torn anterior cruciate ligament, ACL, which led to surgery, a grand obstacle in Ley's soccer career.
"I am hoping I can play in college and of course, they start recruiting junior year…so its really bad timing," Ley said. "It"s very unfortunate. I am missing pretty big tournaments that recruiters are going to be at. Hopefully, I will be better by the time there are other big tournaments, and hopefully other big colleges can still see me."
Along with the surgery and the four month recovery that accompanies it, the effects of this unfortunate incident directly concern Gabby's sister, senior Sandra Ley, and her high school soccer career as well.
"My parents didn't allow me to do Powderpuff…and they also don't even want me to do high school soccer." Sandra said, "That is really big because it is my senior year."
Because Sandra has already committed to UC Berkeley, she cannot risk an injury at this time. The dedicated player believes this caution she has to take during the game changes her technique. Her injury, a badly sprained left ankle, during the high school soccer season last year and her sister's injury this year create a slightly more guarded mentality on the field.
"My parents before every practice and…game say …'Be cautious and don't over-commit.'…It is even more scary now because it is reality and it has actually happened to my sister," Sandra said. "Sometimes I feel I don't go in as hard as I should but I know I am staying safe. Even though my coaches say 'C'mon Sandra you have to go hard into tackles', I would rather stay safe rather than [go after] that one ball."
Although Sandra attempts to find the balance between safety and force in her game, her younger sister reasons that her injury could have been caused by even the most mundane, every day movements and is no reason to change her style. However, Gabby does understand the implications this incident has on the rest of her family.
"My parents were sad [because] it's such a new thing, having a pretty big injury and having surgery. It's a new concept. At first when I heard the news and when everyone heard the news it was really hard to hear," Gabby said. "But all of us are just looking to the future and taking it one step at a time. Overall we are doing better than when we first heard the news. We understand that you can't do anything about what happened. You can just look forward, get the surgery, and just get better."
Irrespective of their changed playing styles and affected careers, the sisters have similar attitudes and speak practically identical optimistic words.
"We're just staying positive," Sandra said, "and hoping she will recover as fast as she can."
"Of course, it is really sad that it happened," Gabby said. "I am sad that I am limited and I can't do all these activities that I love to do, but I am just looking forward now and not looking back."