Seniors win in hard-fought Powderpuff final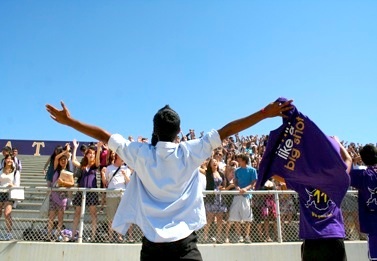 The class of 2011 captures first place in all three categories of Powderpuff tournament with resounding win over juniors
Despite impressive performances from both teams, the class of 2011 emerged as the victors in the annual Powderpuff tournament final. With the class of 2012 playing as the first junior class in the championship since 2006, the senior girls managed to overcome the competition with a strong offensive performance.
The game began with a throwoff by junior Julia Peters, which was returned by the seniors to midfield. Senior Kristen Tatsuno then completed a 20 yard pass to senior Jacqueline Pedrazza, who ran it into the end zone to set up a pivotal 7-0 lead.
However, 2012 did not go down easily. In a methodical drive to the end zone, completions to juniors Katie Upton and Jessica Rahn led to a touchdown that tied the score at 7 apiece. As a response, the senior girls scored on a 10-yard touchdown reception by senior Jacqueline Pedrazza. From then on, the class of 2011 didn't look back.
"After we saw that [touchdown to Pedrazza], we kept getting more and more motivated [to win]," Powderpuff cheerleader senior Kevin Lee said.


In the second half, the seniors scored again on a trick "roly-poly" play that resulted in senior Nikki Danese running up the left sideline for the fourth touchdown of the game. However, the game was far from being finished. Just as the 2011 crowd began their celebrations, another resilient touchdown drive led by junior quarterback Julia Peters and receivers Katie Upton and Jessica Rahn managed to whittle the lead to just one touchdown.
"I felt like we were more focused in [that last drive] and that resulted in our late touchdown," Powderpuff player junior Amanda Kretsch said.
In the end, time was the ultimate factor in deciding the outcome of the game and the seniors managed to hold on to the lead.
"I felt that [the pivotal point of the game] was after the seniors scored their third touchdown," Kretsch said. "After that, our plays weren't as focused."
In addition to their 21-14 win, the seniors also took home first place for class participation and cheer routines, which were both announced at the end of half-time.
Because of the intense practices over the past weeks and the competitive spirit fueled by the Welcome Back Rally, both teams entered the game hungry for a win.
"Everyone put one-hundred-percent into the cheers…[The seniors] practiced and perfected [the helicopter] and it really paid off," Powderpuff captain senior Jonathan Yee said.
Despite the seniors' win, the inter-class rivalry isn't over yet. As a result of this game, expectations for the Homecoming Rally on Friday are high as all classes seek to continue the competition.